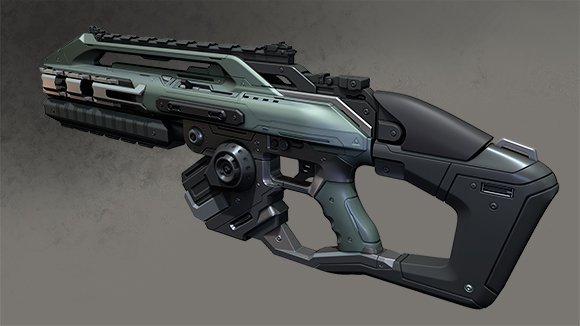 Intent: To update the E-11 rifle, and bring the design forward along with the new line of Blas-Tech weaponry. Along with using the new power cell system invented.
Development Thread: N/A
Manufacturer: Browncoat Arms | Cade Lee Designer
Model: BTI-CC13 Blaster Rifle AKA: Ol' Reliable
Affiliation: Browncoat Arms
Modularity: Yes
Production: Mass Produced
Material: Durasteel and usual production materials
Description: The BTI-CC13 is the spiritual succesor to the old E-11 rifle used for so long around the galaxy. It is a lighter, more precise, and further ranged rifle than the DD-12 just released recently. It is modular with attachments for a grenade launch using thermal detonators of all kinds made by the subsidary of Blas-Tech, Tarascii Explosives. It has two firing modes, semi auto, and automatic. The advancements in cooling technology and overall enhancement in materials has resulted in a lighter, durable weapon. With the new power cell technology in the new line of Blas-Tech weaponry the weapon was given the nickname "Ol' Reliable" for these reasons.
Can be modified to have bayonet on the end as well as a three shot grenade launcher that is listed below.

Classification: Blaster
Size: (Handheld, Rifle)

Status: Military/Personal Use (Must be purchased from Blas-Tech Industries along with new power cells to use)

Length: .7M

Weight: 5KG
Ammunition Type: Gas Canister, Reload with Plug N Fire Power Cell
Ammunition Capacity: 700 Shots in gas canister, 175 shots per Plug N Fire Power Cell

Effective Range: 475M(semi-auto) 350M(full-auto) 150M Grenade launcher attachment (2M effective radius)
Price Individual Rifle: 2,500 Credits. Crate(50 Rifles per crate.): 100,000 credits. Discounts available for bulk orders.