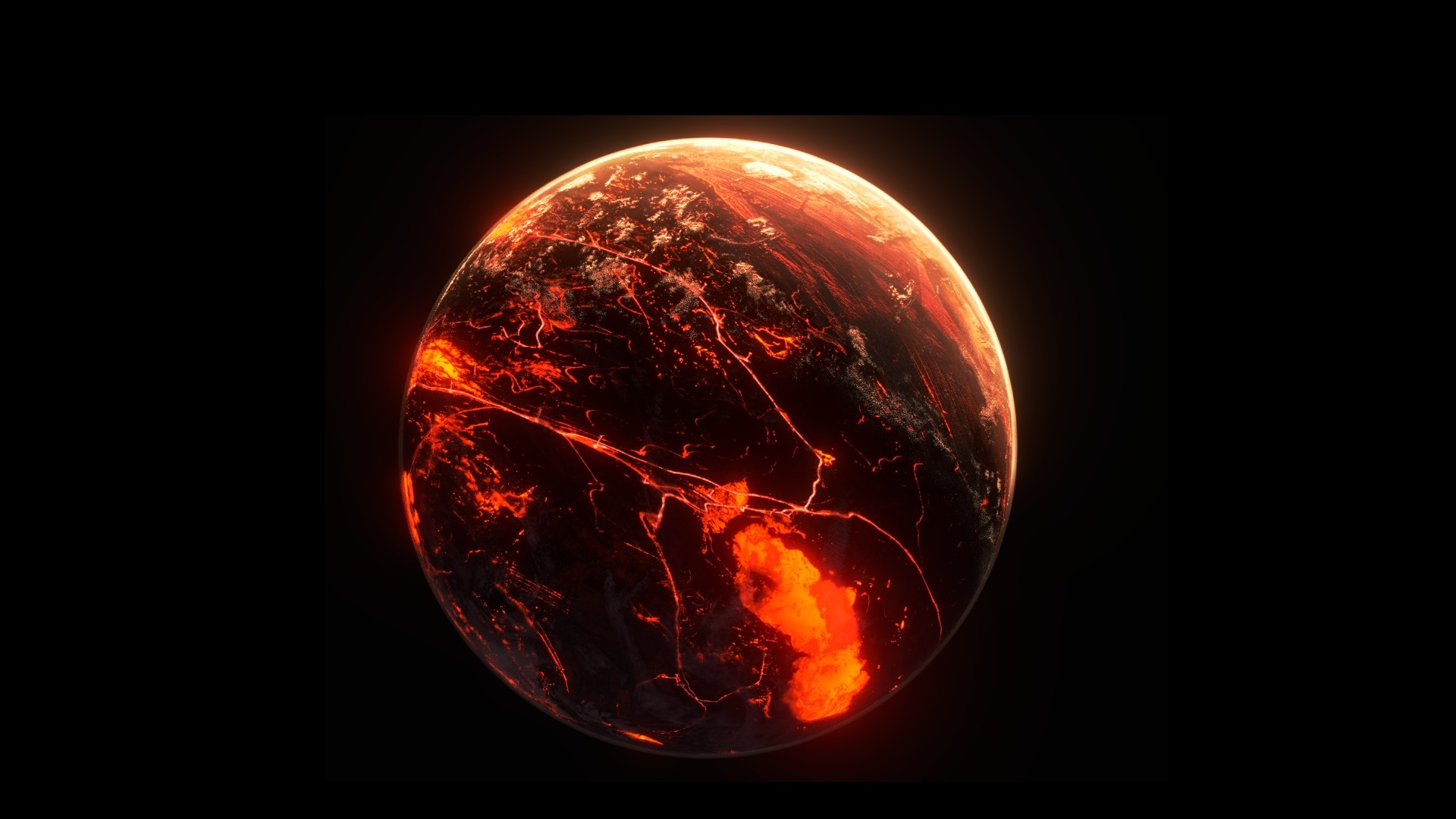 OUT OF CHARACTER INFORMATION
Intent: To create a planet that will hold various places for story purposes of the Imura Family, and as a Codex Submission for the Sith Empire.
​Image Credit: Geoffery Marchal - Lava Planet
Canon: No
Links: N/A
GENERAL INFORMATION
Planet Name: Incaendius
Demonym: Incaendiuns
Region: Outer
System Name: Noxtius System
System Features:

4 total Planets,

Luxtrom

Ferius

Incaendius

Umbration

Various Moons

Luxtrom, No moons

Ferius, 7 Unnamed Moons

Incaendius, 1 moon

Umbration, 15 Satellites, 4 Are classified as moons

Asteroid Belt after the second planet

Asteroid belt after the 3rd planet

Known as the Darkness Belt

Coordinates: AB - 9 Hex
Major Imports:

Clothing,

Foodstuffs

Blaster Tech

Armor tech

Starship tech

Workers

Major Exports:

Permafrost crystal (Only found towards the poles/tundras)

Diamonds/Other Crystals

​Ores/Metal materials

Creature Hides/Scales
GEOGRAPHIC INFORMATION
Gravity: 15% above standard
Climate:

On average temperatures of 45 degrees Celsius around the equator,

Poles can reach a low of - 70 degrees Celsius during the night.

Primary Terrain:

Large volcanic mountain ranges,

Large tundras at north and south poles,

Plains of Obsidian "grass"

Lava Flows

Major Locations:

Outpost Xesh

- A modern day outpost/City state. Having quite a large span of a medium sized city that was built by various species as a home away from home. A place where most of the other Zealots of the planet are not welcome or even in some cases accepted. A space port, a few bars here and there, even a strip club for those who feel like they want to get hot an heavy on a hot planet. The City is mostly ran by a Militant form. The Military is the first, and last form of government. However, they are rather lenient upon the rule base that they stand upon. Just about anyone is welcome, unless you want to cause some trouble.

Temple of Fenrir

- A base of operations of a cult. Aptly named, Fenrir's Disciples, the place is rather tribal in nature and has a mix of cultures that create one. Using some forms of technology such as blasters, Obsidian weapons, such as swords, lances, and axes. They religiously follow a creature called the Fenrir. Since it is so rare, they worship it like a deity, and believe that this creature had once walked the terrestrial planet and reformed it into how it is now.

Obsidian Plains

- Various plains of obsidian shards are around. However, they are rather large structures that are placed with some distance between each other. The Obsidian plains are rather large and make up most of the distances between mountain ranges. And are one of the last things you see before you reach the south pole as the entire pole is surrounded by one giant plain of obsidian spires.

Death Valley

- A valley well known for an oddity. Much like formations of obsidian, this too has some, but they are much smaller and cover the entirety of the valley with what is considered "Obsidian grass" So small that they are needles sticking up from the ground. One will cause minor pain when stepping on it, but stepping on hundreds of these is like walking over a ground of nails. All shapes and sizes that could mean you tripping and falling to your death in a bed of "grass." Considering there are corpses long burned or rotted away here, you would believe the stories.

Hand of Flame

- A large mountain range that circles the north pole of the planet, and then has five "fingers" that extend over the planet to create a large portion of the planet's volcanic activity. While the center of this "hand" has a rather cold tundra, the volcanic mountain ranges don't seen to pour down into this tundra. if it does, it doesn't leave much.

Ignatius Lake

- A lake of constantly hot lava and magma. It is unsure what causes it to be hot all the time, or why. However, the lake is massive and can even been seen from space. (Bottom right side of planet in linked image)
POPULATION
*Will make the Fenrir Species if planet is approved
Immigrated Species:

Various,

Greater Calama - Uncommon - brought by Sith Empires/Affiliates.

Population:

Humanoid species - Sparsely Populated

Various Creatures - Moderate Population

Demographics: Mostly human based. Wary of offworlders, but accepting. Aliens are not shunned, but looked down upon.
Primary Languages: Galactic Basic, Others Very little
Culture:

​Fenrir's Disciples

- The cult has no real holidays. Based mostly about a religion of a nearly extinct species native to the planet, Fenrir is the name for the species, as much as it is the name of the creature itself. Mostly due to the Cult believing that they are all children of this creature. They have various rituals either by spiritual means, or even through the force that they enact to their deity. These rituals are kept as a secret and are reserved only for those who are higher within the cult.

Outpost Xesh

- This City state has a vague form of the term, "lawful city-state" due to their lax and lenient forms of the law. You are able to bring just about anything with you, except for species trafficking, and the trading of slaves or servants.They have only one holiday, and that is on the "Dry Solstice" upon which they have various celebrations for the official naming of the Outpost. Otherwise, the culture is a mix of various species due to the large array of people who visit. Each being open to many species, and people.
GOVERNMENT & ECONOMY
Government: No Planetary government.

Fenrir's Disciples

- The Cult has a Patriarchy Dictatorship. The Clan Leader being called "Alpha Father" will dictate all decisions that impact the group. He also acts as their General in war time, and is also very Xenophobic. Despite being a dictator ship, it acts with a clashing of various other ideals. Should one challenge the Alpha, and win, they become the new leader of the cult. However, if the Alpha were to die, it would be passed onto his heir. If there is no Male Heir, then any who wish to take the spot will fight over it. Any who loose at any time are either put to death, or exiled with only the clothes on their back and one weapon. All females are considered second class citizens. Almost as a slave, and used for general upkeep of the temple they reside in, while also being used for procreation. No female may hold a position of power within the Cult.

Outpost Xesh

- A militarist government that acts much like a Democracy, mixed with a protectorate. They are there to uphold the peace of the outpost, but any leaders are given their position as voted and delegated from within the military. If you are not part of the military, then you cannot be part of the judicial system, or their form of a Council that seats 12, with the "Prime" as the tie breaker and the official leader of the outpost. While most of their laws are open, and allow many to use military based weapons or gear, the only real limitations is the abolishnment of slavery, The persecution of Fenrir's Disciples, and as long as you don't cause damage, or cause trouble, you are welcome.

Affiliation: No.
Wealth: Medium

Most of the wealth held by the planet, is all done by the Outpost Xesh. The cult rarely, if at all, makes contact with those outside of the planet, and use their own monetary system of precious stones instead of currency like the Credit system. Thus the Outpost is the central hub for everything going down. If you want to go anywhere that is even remotely safe, then you need to go through Outpost Xesh.

Stability: Generally there are no civil unrest within the outpost. Everyone gets along, or the Government will hit you hard. Kick you out and not second guess their decision. Considering this is the only major source of anything on this planet, you deal with what you are given. Unless you want to try and get with the cultists, but that would be a bad decision as they only accept humans within their ranks, and even more so, Males are the superior gender. With very ritualistic life style, they aren't the best place to be.
However, there is a small fued between the two city states. Both think that they other are trying to be terrorists, with the cult subjecting people to a harsh and primitive lifestyle, while the outpost is considered the "big brother" that won't leave anyone alone and just has to get into everything. Thus the two are at odds with one another. While there have been no major wars, they are at a tipping point.
Freedom & Oppression: The outpost is rather open with your freedoms and your desires. As long as you don't cause trouble with other people, or the government of the outpost, you are okay. You are free to do as you please. However, the Cult is very strict. Keeping to their beliefs very closely, and force anyone around them to adhere to them as well.
MILITARY & TECHNOLOGY
Military: Half and half with one of the two places a bronze age with some technology because they stole it or acquired it by some other way, They are mostly kept to themselves, but will defend themselves when pressured. They do have a few force sensitives within their group, ranging from Shaman like warriors, and Seers who have quite impressive precognition, and Force sight. However, they have no force sect, or order that they follow. The outpost is mostly a mix of any and all people. The scum of the universe can easily be found here, and as long as they act good according to the military, they are fine with it. They do have a small fleet to defend the planet, but nothing that a Major faction would have to worry about.
Technology:

The outpost is up to standards with the galaxy, The cult is just above a bronze age. Mixing older technology such as bows, swords, Hide and creature armor, and living quarters made out of hide tents with the frame work made out of bones. More permanent structures are built into the ground or into the face of a mountain with stone, mud bricks and the like. However, they have a mix of galaxy tech such as blasters, vibroblades, and some parts of their armor that are scavenged from dead adventurers and pirates.
HISTORICAL INFORMATION
Unknown when the planet was formed,

Signs of temples and formations before humans.

Cult history begins to show up about 50 years before the "end" of the Gulag Plague

Outpost is formed by pirates who found the planet and didn't like the Cult over a period of years.

Remnants of the old Sith Empire Government found the planet and hid away from the Mandalorians after their attacks upon Dromund Kaas.

Forged the Oupost Xesh and officially named it as such just after the Netherworld Event.

Remnants of the Omega Sith fled to Outpost hearing of it being open to various people. Their group then disbanded into various pirate groups and some even joined the Cult.

Fell off of the Galactic map and was not added due to wanting to be hidden from the rest of the galaxy.
Edited by Ignis Imura, 22 November 2017 - 01:48 AM.