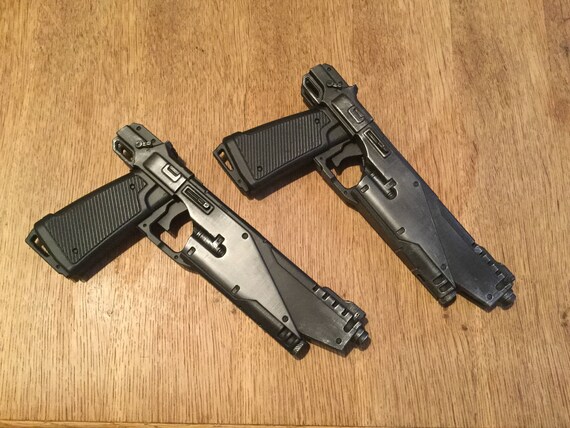 OUT OF CHARACTER INFORMATION
Intent: To create a gift for someone for Life Day
Image Source: Here
Canon Link: WESTAR-35 Blaster Pistol
Restricted Missions: N/A
Primary Source: N/A
PRODUCTION INFORMATION
Manufacturer: Concordian Crescent Technologies (Original) and Noah Corek (Modifier)
Model: WESTAR-35 Blaster Pistol
Affiliation: The Person Who it is Gifted to
Modularity: Yes
Production: Unique (2)
Material: Dallorian Alloy
TECHNICAL SPECIFICATIONS
Classification: Blaster
Size: Handheld
Length: 21.3 Centimeters
Weight: .63 Kilograms
Ammunition Type: Power Cell and Gas Canister
Ammunition Capacity: 75 Shots (Power Cell) and 300 Shots (Gas Canister)
Effective Range: 50 Meters
Rate of Fire: Semi-Automatic
SPECIAL FEATURES
Extra Efficient Heter Valve (Allows for more shots)
Fine Tuned XCiter (Allows for more powerful shots)
Improved Actuating Module (Allows for more accurate shots)
Improved Beam Splitter (Allows for more powerful shots)
High-End, Finely Cut Prismatic Crystal (Allows for more accurate shots)
Textured and Ergonomic Gift (Allows for easier handling)
Strengths:
High Penetration and Stopping Power
Durable
Easy to Use
Weaknesses:
A Lot of Expensive Modifications
Lightsaber can Deflect Bolts
Slowing Moving Compared to Bullets
Due to the Extensive Modifications only Someone with Noah's skill can Repair them
Rapid Fire will Affect Accuracy
Overheating Will Occur if Fired for too long
DESCRIPTION
Noah created this special pair of WESTAR-35 Blaster Pistols as a Life Day gift for someone. Finding the base weapon was a bit hard, usually Noah would pick a weapon more suited for himself but he decided to pick a weapon that was easier for someone else without the same amount of training to use. For that Noah picked the WESTAR-35 because how could you go wrong with a Mandalorian blaster? From the there he began to work on the metal he would use, finely decided on Dallorian alloy to prevent it from overheating. Finally Noah chocked it full of upgrades and modifications.
Edited by Noah Corek, 23 December 2017 - 10:56 PM.