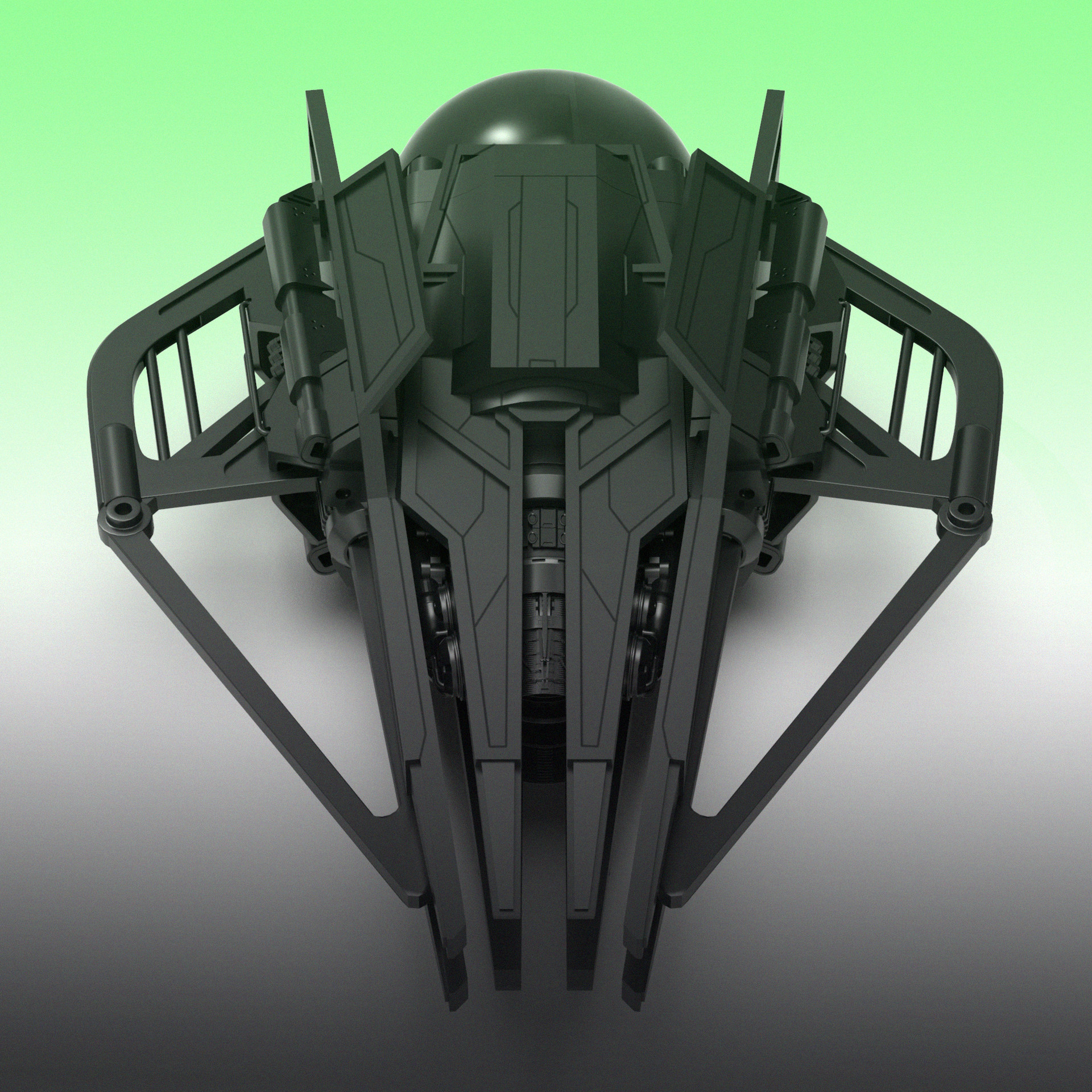 OUT OF CHARACTER INFORMATION
Intent: To create a fighter for sale for Locke and Key Mechanics

Image Source: Artstation

Canon Link: N/A

Restricted Missions: N/A

Primary Source: N/A
PRODUCTION INFORMATION
Manufacturer: Locke and Key Mechanics

Model: Dart Interceptor

Affiliation: Closed Market

Production: Mass Produced

Material: Quadanium Steel, Transparisteel, Electronics Parts
TECHNICAL SPECIFICATIONS
Classification: Starfighter

Length: 12m

Width: 4m

Height: 5m

Armament: Very Low

2 x Laser Cannon

1 x Underslung blaster turret

1 x Missile Launchers (4 missiles per launcher)

Defenses: Low

Squadron Count: Moderate: 16

Maneuverability Rating: High (With Slam engaged this goes down to Moderate)

Speed Rating: High (With Slam engaged this goes up to Very High)

Hyperdrive Class: None
STANDARD FEATURES
4 x Laser Cannon
1 x Missile Launchers
Life Support
Repulsorlift
ADVANCED SYSTEMS
The Hermes is an advanced communication system created by Locke and Key Mechanics which is designed to provide a secure means of communication through the use of quantum key distribution.
Minerva Sensors
The Minerva system is a collection of sensors designed to create a representation of the battlespace surrounding the user, allowing them to keep a track of targets and threats around them. The system by itself just a series of sensors that can feed into the ship's screens, but when paired with the Minerva HUD it provides a picture of the space around the ship. This makes it harder to surprise the pilot since the system can highlight any threats creeping up on them, or terrain that might be dangerous.
Advanced Maneuvering System
The Dart possesses several Maneuvering jets positioned around the ship that give the fighter the ability to almost dance around the battlefield. With the aid of the advanced spatial awareness provided by the Minerva it can safely navigate the most difficult of terrains thanks to the manoeuvring system, avoiding enemy fire and hazardous terrain.
Strengths:
Secured communications

Minerva System

Fast and Maneuverable

Advanced Maneuvering System
Weaknesses:
Vulnerable: The Dart has very weak defences depending on its high speed, manoeuvrability and difficult to lock onto sensor signature to stay alive rather than the strong shields of other fighters.

Difficult to master the controls: While the Advanced Maneuvering System allows the ship to dance, it's hard to fully master the system leaving this a ship only to be used by the best otherwise you risk spinning into the line of an attack not away from it.

Weak Attack: The Dart has a weaker attack compared with other starfighters its size, designed mainly around outmanoeuvring someone and attacking where they're the weakest.

No Hyperdrive

Pure interceptor: The Bit is purely designed as a dogfighting ship, and fares very badly when trying to engage any target that is larger than a fighter. It simply lacks the weaponry to damage a capital ship and focusing on one target like that locks it in one place, removing its prime attribute of its speed and manoeuvrability.
Description:
The second starfighter to roll off the production line at Locke and Key Mechanics was the Dart Interceptor. Trading in the high firepower and overall superiority of the Fang for something completely different. The Dart was meant to be fast and manoeuvrable, flying circles around the opposition and tearing them to shreds before moving on to their next target. The bit is unable to operate independently of a carrier, designed not to jump into systems by itself but to be deployed as a fast attack craft to counter the threat of bombers or harass other fighters, slowing their attacks on your own craft. Their speed and manoeuvrability make the Bit a terror on any battlefield.
Edited by John Locke, 11 January 2018 - 03:40 AM.