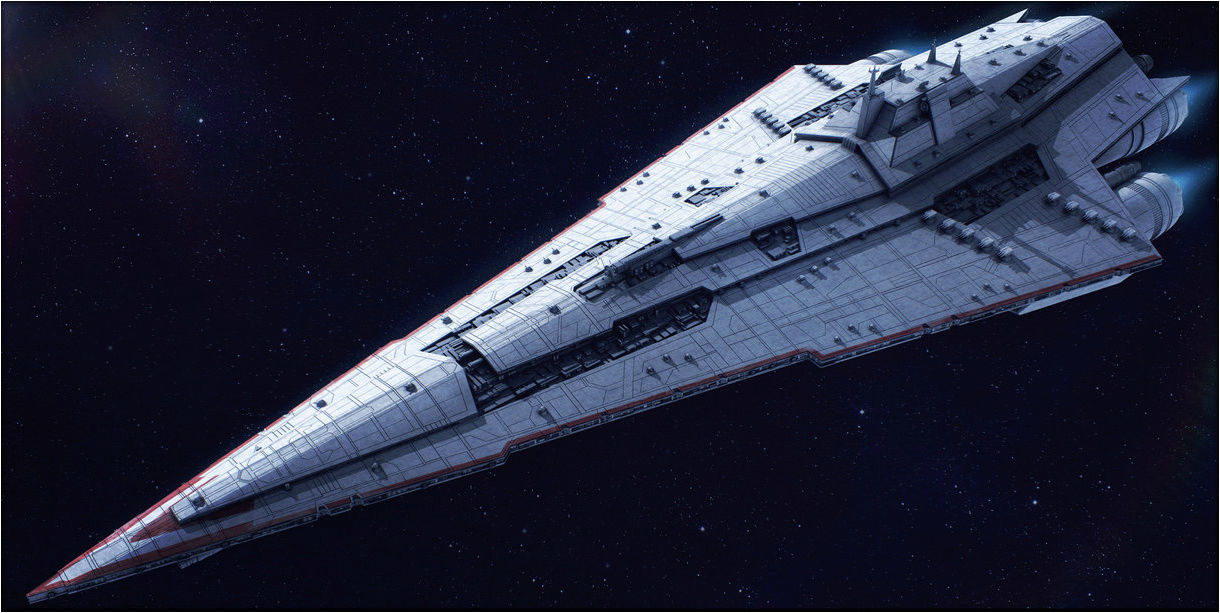 OUT OF CHARACTER INFORMATION
Intent:

To provide Arken Lussk with a ship capable of proudly serving under the Sith Empire banner.

Image Source:

Here

Canon Link:

N/A

Restricted Missions:

N/A

Primary Source:
Manufacturer:

The Dominion, modified by Aegis Systems and Jaeger Solutions.

Model:

Mephirium-class Battlecruiser, "Soma"

Affiliation:

The Sith Empire, Arken Lussk

Production:

Unique

Material:

Quandanium Steel Frame, Alusteel, Transparisteel.
Classification:

Factory Ship/Supercarrier

Length:

3000m

Width:

1100m

Height:

600m

Armament:

Average

Defenses:

High

Hangar:

Extreme

Maneuverability Rating:

Low

Speed Rating:

Low

Hyperdrive Class:

Class 1
Standard Life Support Systems

Standard Armory

Heavy Tractor Beam Projectors

Precision Navicomputer

Escape Pods

Standard Targeting System

Standard Sensor Array

Standard Communications Array w/ Encryption Module

IFF Transponder

HoloNet Transceiver

PED-21 Distress Beacon

Port & Starboard Hangar Bays

Force Cylinders (Omnicompatible Docking)
ADVANCED SYSTEMS:
[+]

Mechanized Might:

The entirety of the Soma has been cannibalized and reformatted to better suit Arken's desires. Larger cargo spaces for a large manner of industrial equipment, drop pods, molecular furnaces, and even self-regulating factories. These mechanized assets provide an insurmountable boost to sustainment value and allow for logistics to be transported swimmingly across the vessel. Self-repairs and producing more war materials for battle are not beyond the Soma, but the output of these machines is directly proportional to the intake of resources and how much of the ship's power is being diverted to these industrial systems.

[+]

Bangin' Hangar:

An extra to the above, much of the gutted space of the Soma has been granted to the hangar bays. With their greatly enhanced size, the massive ship is able to field far more squadrons of their iconic drone fighters.

[+]

Overlord:

Above all else, the Soma possesses an AXIOS Central AI core that is capable with syncing with millions of systems, networks, and mobile platforms to greatly enhance efficiency and optimize performance. It's command and control in its purest form and makes for an outstanding commander in lieu of Arken himself.
[-]

Moving Target:

The Soma has such a large profile that it'd be hard not to hit it. Coupling that with sorely lacking speed and maneuverability, hitting this target won't be a hard job for even the least skilled pilots.

[-]

Fire Arcs/Underwhelming Weaponry:

Much of the weaponry from the initial variant of the Soma was repurposed or removed to compensate for the greater cargo and hangar space, which leaves its main guns lacking in strength. Along with this, the vessel is of the age-old star destroyer designs and has the resultant firing vectors one would expect.

[-]

Reactors:

There's two experimental reactors aboard the ship. Highly powerful in regards to their output but just as equally volatile, and can be exploited as such. One of the best ways is simply overloading the vessel with ionic and electromagnetic weaponry whilst the others range from boarding the Soma to sabotage one of them.

[-]

Deployment:

Deploying the entirety of the Soma's complement takes a hot minute. The first five (5) squadrons are always prepared to launch and dispatch any hostile anomalies, but the rest of them sit on logistics racks and must wait for a rather slow, automated process to deploy them straight into combat.
The Soma was originally designed to be the sister ship to the Technicolor Beat, a vessel of the same variant albeit notoriously known for wild parties and debauchery. In wake of its absence to the known galaxy, Arken Lussk finally revealed his work in progress upon completion.
Visually identical to its sister vessel, but one borne of mechanized might and cold, calculating discipline. Industrial systems, factories, and massive hangar bays filled to the brim with drones ready to strike at a moment's notice.
Much of the frame of the original Mephirium-class has been kept the same. That bladed star destroyer design of old, bearing the proud profile of age-old glory and power. It's a rather standard design that's commonly seen in the militant fleets of the galaxy, owing much of it to the original Republic Venator-class Star Destroyer.
As far as the outward appearance goes, not much has been altered. Many of the heavy cannons and weaponry from the original Mephirium design have either been removed or replaced by more powerful emplacements albeit in fewer numbers. Recessed shield generators, a sleek and elongated look, and a prominent bridge make for an imposing view above the puny worlds of the galaxy.
Internally, the entirety of the vessel has been renovated. Where old weapon systems and reactor cores sat now house multitudes of industrial systems and logistical lines. Molecular furnaces sit at the core of the vessel, being fueled by powerful tractor beams that pull raw material and unwanted spacial debris into them. There, this material is refined to their respective purposes before they're transformed into materials of war: droids, weapons, speeders, walkers, and even more starfighters. However, all of this production is entirely dependent on the amount of input. The Soma has the capability of pulling in destroyed fighters and churning out very limited numbers of their own to replenish its complement's ranks. Never will this ship be capable of large scale production in short durations. Given enough time and resources, however, the Soma can sustain itself indefinitely and make major repairs to itself or bolster its complement to full strength.
The original Mephirium had too many guns, far too many for Arken's liking. So he removed the majority of them, replacing them with far more powerful variants of their kind but in fewer numbers. The entirety of the Soma's weapon complement is the rather standard sort: turbolasers, ion cannons, point defense weaponry, and a few warhead launchers.
The mainstay of the heavy weaponry come in the form of DBY-827 heavy turbolaser cannons. These fast-tracking and powerful cannons are capable of seven different output configurations that make for a well rounded and versatile primary weapon. Their one-two configuration allows them to penetrate most shields with ease while their lower settings can easily allocate power to track smaller, faster targets to fire flak rounds.
These heavy turbolasers are complimented by smaller, fast-tracking turbolasers and ion cannons. This line of weapons are secondary and fill the gaps between the firing vectors of the DBY-827s. Nothing too extraordinary here save for their fastmounts.
And lastly come the point defenses. Numerous quad laser cannons and point defense laser batteries dot the Soma's frame. They litter the hull and are located around key points, namely the command bridge and other crucial systems. Fast-tracking and powerful, they're quite adept at batting away enemy attack craft or even the shy incoming projectile that makes it past the outer lines of battle.
The Soma was built around command and control, and a massive hangar. Cleaved out of the front part of the vessel sits a massive hangar bay, filled with twenty squadrons of Taera-class Swarm Drones. Small, agile, and intelligent little drones that belay the orders and commands of the Soma's AXIOS CAIS.
Two massive port and starboard hangar bays allow for a rather quick deployment of the majority of the first five (5) squadrons into combat. The rest of the other squadrons sit behind or above them on logistics racks, awaiting a rather slow deployment from an automated cycle.
It should also be noted that none of these drones possess much independence from their host carrier. While their C2 node allows for sublime range during sublight operations, they possess no hyperdrive functionality whatsoever. Seeing a few drones in space is a telltale sign of the Soma's presence.
Alongside the attack craft complement is an armored battlegroup comprised entirely of droid soldiers. These regiments are typically charged with maintaining security aboard the vessel in roving patrols but remain ready to deploy groundside at a moment's notice via orbital drop pods. Deployment through these means is also rather slow, and takes longer than an organic army to fully launch towards a planet.
As noted above in the design section, the Soma houses a massive series of industrial systems behind the hangar bay. Carved out of the former barracks, armories, and other onboard housing complexes sits several onboard factories and molecular furnaces. The furnaces sit at the core of the vessel, fairly close to the zero-point reactors, and are fed raw material primarily through the heavy tractor beam projectors dotted about the vessel's hull. Raw materials are brought aboard, scanned for anomalies, and then passed through the molecular furnaces for conversion into more usable substances.
Once at this process, these usable materials are then sent through one of several factories to be transformed into weapons of war. Weaponry, ammunition, droids, vehicles, and even small starfighters are capable of being produced aboard the Soma. However, a constant and steady rate of production is directly proportional to the input of raw materials. Given enough time and resources, the Soma can make major repairs to itself or further bolster its complement's numbers to full strength following a battle. Only limited numbers of war assets are able to be produced mid battle.
Aside from the industrial systems set in place as your usual sub-systems necessary for keeping a vessel of this size afloat. Standard sensorscopes, scanners, secure communications relays, and other modules of non-combat nature. However, the most prominent system in place with these nodes is the AXIOS Central Artificial Intelligence System. Lovingly named "Jenna", the CAIS serves as the central manager of everything that happens aboard the Soma. From directing the industrial systems to optimize efficiency, plotting hyperspace jumps, or making tactical decisions during the midst of battle.
The Soma is the first of its kind: a supercarrier and factory ship blend. Combining the raw strength of industrial systems to maintain sustainability and the agile, quick-reacting swarm of drones makes for an imposing enemy on the battlefield. It's a fitting vessel for the son of an Emperor, standing as a beacon of strength and power above the masses of the galaxy.
Edited by Arken Lussk, 13 January 2018 - 03:49 AM.
Manufacturers hyperlinked.