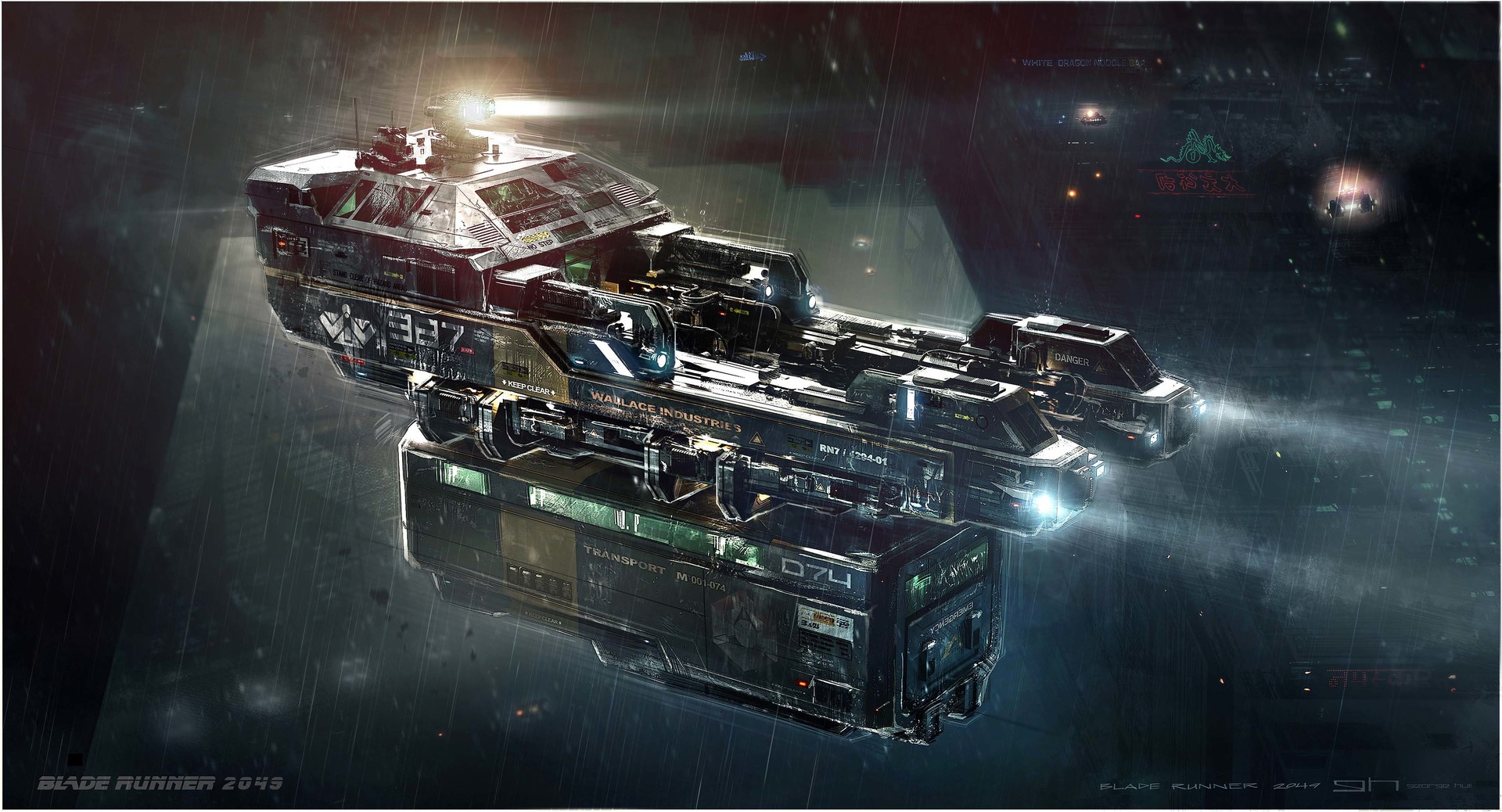 OUT OF CHARACTER INFORMATION
Intent: A cargo vehicle suitable for bringing things into combat situations and taking things out of combat situations.
Image Source: "Blade Runner: 2049 Vehicle Concept" by George Hull, found at https://www.artstati...m/artwork/Q00BB
Canon Link: N/A
Restricted Missions: N/A
Primary Source: N/A
PRODUCTION INFORMATION
Manufacturer: Outer Rim Coalition
Model: ORC Combat Hauler
Affiliation: Outer Rim Coalition and friends (ask first)
Production: Minor Production
Material: Doonium plating, glasteel viewports, durasteel frame
TECHNICAL SPECIFICATIONS
Classification: Airspeeder
Role: Transport
Size: Large
Weight: Very Heavy
Minimum Crew: 1
Optimal Crew: 2 (pilot and cargo operator)
Propulsion: Repulsorlift
Speed: Average (400kph)
Maneuverability: Very Low
Armament: None
Defenses: Very High
Squadron Count: Very Low
Passenger Capacity: 10, but not comfortably
Cargo Capacity: Very High
SPECIAL FEATURES
Tractor beams
Cargo attachment points
Cargo straps
Tensor fields
Tow cables
Redundant inertial dampeners
Ventral cargo container capacity

Strengths:
Starship-grade armor plating
Can transport an awful lot of cargo in a variety of ways
Reliable systems

Weaknesses:
Pretty terrible in the maneuvering department
Bulky (very low squadron count)
Totally unarmed

Description: The ORC Combat Hauler is a beautiful sight to an expedition that's out of food and ammunition. Soaring with the grace of an angelic brick, a Combat Hauler brings supplies of every kind, and leaves with a load of casualties or precious cargo. Corvette-grade doonium plating ensures this hauler will get where it's going, and a maxed-out flight ceiling allows carrier ships to deploy Combat Haulers from low orbit without undue free fall.

Combat Haulers see action in any number of frontier peacekeeping and colonization efforts. Secondhand or surplus examples wind up in planetary defense forces and private flotillas throughout Wild Space and the Outer Rim.
Edited by Jorus Merrill, 14 January 2018 - 04:42 PM.