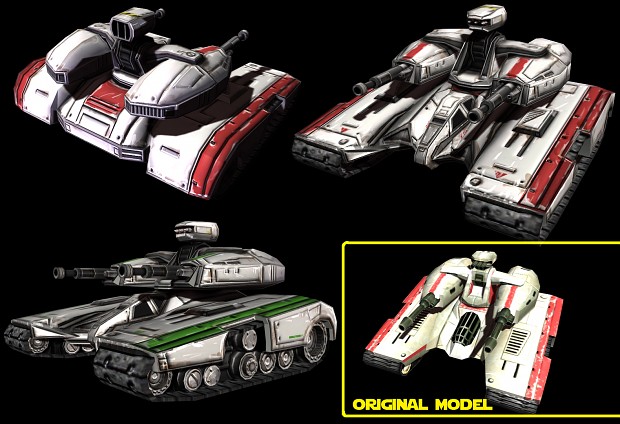 OUT OF CHARACTER INFORMATION
PRODUCTION INFORMATION
Manufacturer: Defiance Consolidated Multipurpose Manufacturing
Model: T4-C Heavy Tank
Affiliation: Open-Market
Modularity: Yes(ordnance in the missile launchers)
Production: Mass-Produced
Material:​ Cast duranium(frame), adamithium-durasteel composite(armor)
TECHNICAL SPECIFICATIONS
Classification: Tank
Role: Heavy Tank
Size:

Large

Weight:

Heavy

Minimum Crew: 2
Optimal Crew: 3
Propulsion: Tracks
Speed:

Very Slow

​(20km/h)
Maneuverability:

Low

Armaments:

Very High
​Dual Turbolaser Turret (1)
Tri-barrel general purpose missile launcher (1)
Assault Concussion Missile

Cluster Missile

Advanced Proton Torpedo

Ion Torpedo/Disruptor Torpedo

Flechette Missile

Intruder Missile

Discord Missile

Conner Net
​
Defenses:

Very High
​Deflector Shields
Squadron Count:

Very Low

Passenger Capacity: N/A
Cargo Capacity: Very Small
SPECIAL FEATURES
Mir Hypermatter Annihilation Reactor

Strengths:
Powerful weaponry.
Exceptional shielding.
Weaknesses:
Slow and lacking in maneuverability, though more maneuverable than comparable walkers.
Vulnerable to infantry flanking the tank.
DESCRIPTION
Designed around the Yutrane-Trackata T4-B platform, the T4-C heavy tank is intended to be an alternative to walkers and repulsorcraft with regards to engaging enemy heavy armor and structures. The tracked design allows for greater maneuverability than a walker while still allowing use on planets where repulsor fields cannot function. The T4-B fits a Mir hypermatter annihilation reactor, an easy task given its size, which powers the vehicle's mobility, weapons, and shielding. Armament-wise, the T4-C fits a twin turbolaser turret, giving it exceptional anti-armor power. To engage infantry and low-flying fighters and bombers, the T4-C also fits a tri-barrel general purpose missile launcher capable of using a wide variety of missile, torpedo, and other common ordnance types. This flexibility, combined with a relatively low cost per unit, is meant to encourage buyers to purchase the T4-C and utilize it in a variety of combat roles.