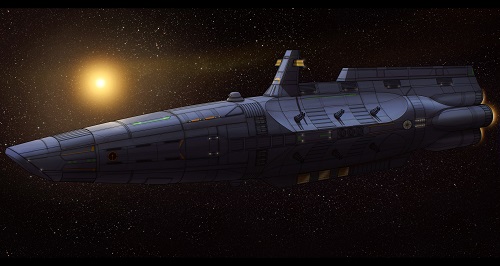 OUT OF CHARACTER INFORMATION
Intent: A light assault craft for Mandalorian forces
Image Source: Link
Canon Link: None
Restricted Missions: None
Primary Source: None
PRODUCTION INFORMATION
TECHNICAL SPECIFICATIONS
Classification: Pinnace
Length: 50 meters
Width: 20 meters
Height: 25 meters
Armament:

Low




Turbolaser cannon


30mm Railgun Autocannon Point Defence


Missile/Torpedo pods

Defenses: Moderate
Gravity Well Point Defence
Ablative Armor
Hangar:

None

:
Maneuverability Rating:

Low

Speed Rating:

High

Hyperdrive Class:

Average

: 2
STANDARD FEATURES
Armored troop bay
Communication Wave De-scrambler
Encryption Module
Frequency Jammer
Holonet Transceiver
Hyperwave Transceiver
Subspace Transceiver
Cap Drains
Artificial Gravity
Escape Pods
Ionic Shielding
Life Support
Lifesign detector
Comscan
Socketguard
Inertial Damper
Life Form Indicator
Aural Sensor
Hyperwave Signal Interceptor
Long-range Sensor
Targeting Lasers
Targeting Sensor
Tri-Tracker
Wide-range Sensor
Anti-ion Emission Tracer
De-Ionizer
ADVANCED SYSTEMS
Strengths:
Allows for safe and effective troop delivery thanks to high speed
MBE-1 allows access to jam resistant sensor and comms network
Weaknesses:
Lightly armed
Very slow to maneuver, focus on straight line speed
Description: Designed by MandalArms as a fast attack craft, compact and able to deliver its payload quickly and effectively, the assault pinnace ticks all the boxes. Armed with a turbolaser cannon and missiles or torpedoes, she is designed to rush an enemy target and unload her armaments, or blast a fixed position in preparation for landing her squad of armored troops.
Her effective defences make her a tough kill for starfighters and missile weapons, and her straight line speed rivals most anything else in the size class. Built to take enemy fire rather than avoid it, she relies on toughness and speed rather than maneuverability to win the day.
Edited by Kaine Australis, 20 April 2018 - 01:29 AM.