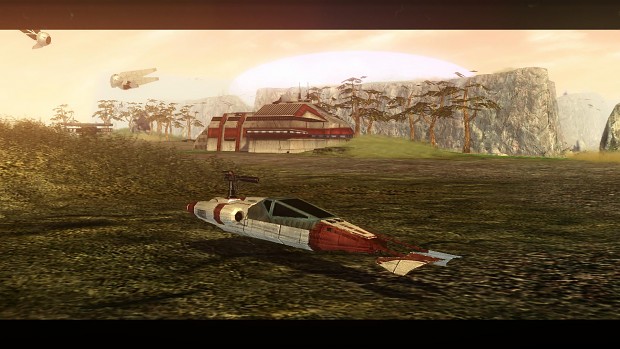 OUT OF CHARACTER INFORMATION
PRODUCTION INFORMATION
Manufacturer: HLCS
Model: GFV-2
Availability: Open-Market
Modularity: Paint Job
Production: Mass-Produced
Material:

Ballistic integrated Glass Steel

Ferrocarbon Frame

Alusteel body
TECHNICAL SPECIFICATIONS
Classification:: Repulsor Cvilian transport
Role: Transport
Size:

Small

6m long, 3m wide, 2.4m high
Weight:

Light 7 tons

Optimal Crew: 1 Pilots
Propulsion: Repulsorlift
Speed: Very High Cruising speed 200km/h Max 400km/h

Maneuverability: High On the spot turning with engines able to put thrust in reverse
Transmission: Repulor lift and turbine engines
Armaments:

Very Low

Defenses: Low
Squadron Count:

Moderate

: 15
Passenger Capacity:

Non

Cargo Capacity:

Low

50kg
Cost: 12'000 credits (10'000 RR member)
STANDARD FEATURES
Basic Communication array

Light Integrated Ionic Insulation

Internal sighting for outside view and holograpic display
SPECIAL FEATURES
Strengths:
Fast as chit: This speeder has insane speed and maneuverability, if one where to strip the weapons off there would probably be nothing stopping you from taking part in a swoop race... and win.
Anti-Peronal: The 360 swivel laser cannon gives the GFV-2 decent ability to take out enemy infantry with relative ease, the shield making small arms fire not very effective against the hull.
Weaknesses:
Weak Defense: Despite the shielding unit the GFV-2 has little defense on it's side and one well placed shot from a heavy weapon can immobilize this speeder, or blow it up.
Lower Attack: The laser cannon while good against infantry and some light craft can not really hop to damage more front line combat vehicles like tanks easily.
DESCRIPTION
Moving away from making massive ships for a bit Harley put a little more focus back into HLCS and ground combat craft. It soon becoming apparent that the company had yet to delve into the speeder pike section of the market, though had yet to finish off a decent range of speeders. This problem was solved in one product, Harley doing what he did bet... taking two existing craft and mash them together in order to make cool and stylish hybrid vehicles.This time around a 74-Z land speeder bike and the Rebel combat speeder into one single agile craft, perfect for scouting and anti-infrantry fighting, with a little bit of racing on the side.
Operating Use
The GFV-2 is best use for scouting, where you may expect someone to run into enemies, as suh this craft giving the user more protection and fire power then a speeder bike. In turn though it is also quite fast, allowing for quick get always if the situation become sticky. Such a craft is also ideal for raiding, especially against ill defended enemy camps or stations, along with harassing enemy troops and flanking missions. Still a commander should never over estimate the crafts abilities to much, lest send them to the slaughter.

Defense Spec
This craft has not real long term defense, though able to take blaster fire well any large anti tank weapons can rip this hover speeder to bits. The best defense this thing has against the enemy is dodging their attacks with its speed and maneuverability. This does not mean run away from every fight, as the craft can easily defect small arms fire due to the shields.
Edited by Harley Fenstermacher , 11 July 2018 - 10:35 PM.