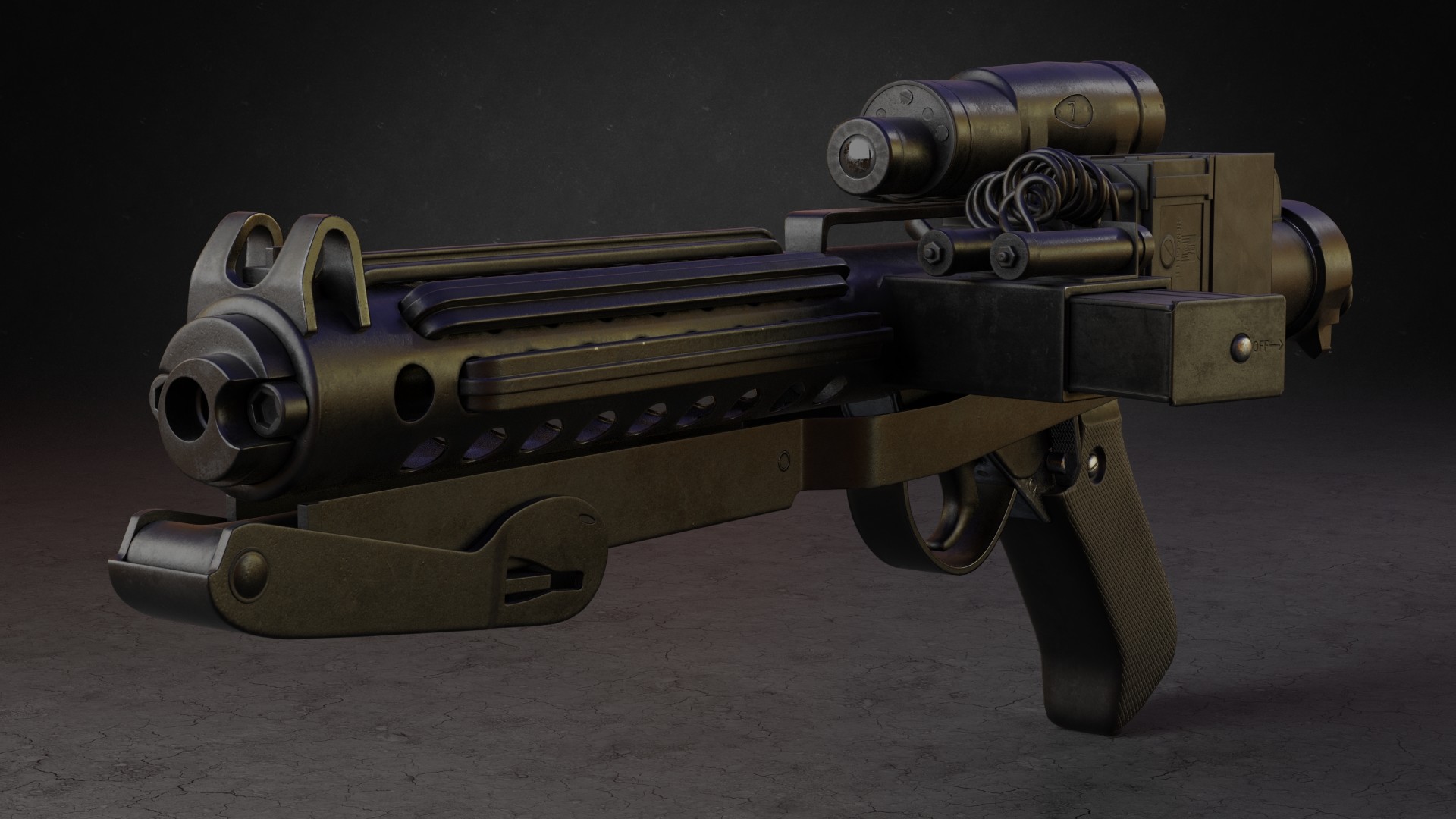 OUT OF CHARACTER INFORMATION
PRODUCTION INFORMATION
Manufacturer:

The Resolute

Model:

Modified E-11

Affiliation:

The Resolute

Modularity:

Variety of Ammunition, Detachable Flashlight, Projectile Launcher, and Folding Three-Position Stock

Production:

Minor
TECHNICAL SPECIFICATIONS
Classification:

Blaster Rifle

Size:

Average

Length:

49.2 cm

Weight:

Average

Ammunition Type:

Grenades, Darts, Flares, Power Cells, and Plasma Cartridges

Ammunition Capacity:

200 shots (Improved Power Cells), 500 shots (Plasma Cartridges)

Effective Range:

Average

Rate of Fire:

Average
Stopping Power: Average
Recoil: Low
FEATURES
Projectile launcher on blaster has the ability to fire many things from

greandes

,

to darts, to flares.

Telescopic range-finding sight

Capable of holding a wide variety of ammunition

Scope that allows for clear sight in dark, hazy, and smoky conditions

Supplementary computer that allows weapon operating mode to be viewed in the scope

Sight Rail

Scope is capable of interfacing tactical HUD in helmet of trooper

Improved Power Cell/Pack
Strengths:
Scope Of All -

The scope on the modified E-11 has many features. The scope itself is a telescopic range-finder, allowing for accurate shots and, if desired, sniping capabilities. Firstly, it is computer enhanced, allowing for the installation of many features that have proven to be advantageous. One such feature is the user's ability to see clearly to dim, hazy, and smoky conditions. Another feature is that the scope is able to display a tactical HUD into the helmet that the soldier is wearing, allowing for accurate movement of units and precise accuracy if a target moves. Overall, the scope of the weapon is one of the many versatile components of this weapon.

Versatile Designs -

As mentioned before the scope is one component that is proven to be versatile in many ways. The other features of this modified blaster include an advanced cooling system, projectile launching capabilities, and three power settings. The power settings included lethal, stun, and sting.

Power Boost

The power of the E-11 has been improved upon based on the original model. In this version, the power lasts far longer, offering 200 shots instead of the previous standard of 100 shots from the power pack.
Weaknesses:
Maintenance -

While this version of the E-11 is versatile and very efficient in many aspects, one potential setback is the overall maintenance of the weapon. As with the original model, all moving and metal parts are covered in corrosion-proof, vacuum-rated dry lubricant that requires a regular basis cleaning.

Not So Large Scale -

A second draw back of the model is that it is intended for Close Quarter Combat or narrow spaces. While it is sufficient enough in open, large spaces, it is best utilized in narrow platforms such as a ship corridor of hallway. The small space is capable of offering increased accuracy.
DESCRIPTION
The E-11 is an excellent weapon. It is even more so now that we have improved upon it. Now, it is operational and has been named a standardized weapon for The Resolute. With all modifications and adjustments in mind, it is quite possible to further improve on the design and durability in the future, if necessary.
Almost all improvements are beneficial, in most any case. The modified weapon showcases an increased number of shots with the power cell attached to it. Instead of the typical 100 shots, the numbers have been doubled to 200.
With all hope of innovation, glory, and conquest, the new E-11 has been created. With it, The Resolute will rise as intended and spread its influence in glorious hard-won battles and in times of hardship.