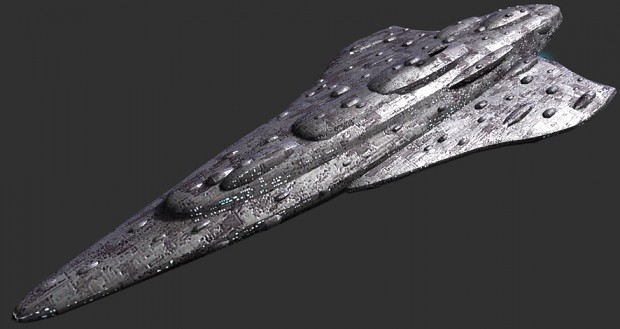 OUT OF CHARACTER INFORMATION
Intent: A custom pirate carrier for The Void Serpents
Image Source:

Link

Canon Link: None
Primary Source: None
PRODUCTION INFORMATION
Manufacturer:

The Family

(Production)

MandalArms

(Design)

Affiliation:

The Family

Model: PC-2
Production: Unique
Material: Doonium, Phobium, Reflec, Agrinium, Circuitry
TECHNICAL SPECIFICATIONS
Classification: Carrier
Length: 2000 meters
Width: 800 meters
Height: 420 meters
Armament: Average
Flakblaster Turrets
Quadlaser Turrets
Point Defence Mass Drivers (30mm Chaingun

)

Defenses: Extreme
Primary Molecular Shields
Secondary Particle Deflector
Tertiary Ionic Shields
Layered Ablative Armour
Hangar: Extreme: 18
Maneuverability Rating: Very Low
Speed Rating: Very Low
Hyperdrive Class: Average : 2
STANDARD FEATURES
Artificial Gravity

Comscan

Cap Drains

Distress Beacon

Environmental Systems

Escape Pods

Hyperwave Signal Interceptor

Inertial Damper

Life Support

Main Hangar Bay

Medical Bay

Navigation System

Repair and Maintenance facility

Sensor Dampeners

Targeting Laser

Targeting Sensor

Tractor beam arrays

Troop transport hangars

Tri-Tracker

Wide-range Sensor
ADVANCED SYSTEMS
Tibanna-X Engine and thruster system
Strengths:
Extremely large hangar capacity, can carry a wealth of smaller craft

Outstanding defensive capability with multiple strong shields and thick armour

Layered defences make this a very capable vessel against small enemy craft

Low sensor profile, tibanna-x, and reflec coating make this vessel harder to detect than others in its size class
Weaknesses:
No capital class weapons of any kind

Very slow, and sluggish to maneuver
Description:
A private contract between business interestsand the Warmaster of the Mandalorian Empire, led to MandalArms' scientists being set to work on producing a unique vessel capable of carrying a wealth of smaller craft while keeping a very low profile.

With eighteen hangars able to hold many different craft she is no defenceless, and strong armour and shields plus a wealth of smaller, faster, turret based weaponry make her a tough target for enemy craft. Though she cannot hit back directly against enemy capital ships, she can take a hell of a beating while her own complement deals with any threats.

Built in a complete and utter copy of an ancient Mon Calamari design the client had found on the HoloNet, she is long-hulled with all-aspect sensor coverage. The wings allow for point defence weapons to better cover the normally vulnerable stern and engine sections, an advantage this hull design has over Imperial-style vessels of its day.

The outer hull is ablative plated doonium, coated in reflec. Well shielded, her energy output, while impressive, is carefully concealed from outside, with phobium coated in agrinium, radiation shielding, dampeners, and absorbers keeping the reactor and output from the Tibanna-X engines and thrusters from giving the ship away. The outer hull has weapon blisters dotted across it, giving the vessel excellent fields of fire where starfighters are concerned.

Built big and built powerful, she is not the most maneuverable or durable ship in the sky by a long stretch, though she has excellent eyes and ears and a large strike package. She is capable of taking a major pounding and coming through in one piece, providing a safe home for her wealth of smaller craft.
Edited by Kaine Australis, 01 August 2018 - 08:20 PM.