Image Source: SWTOR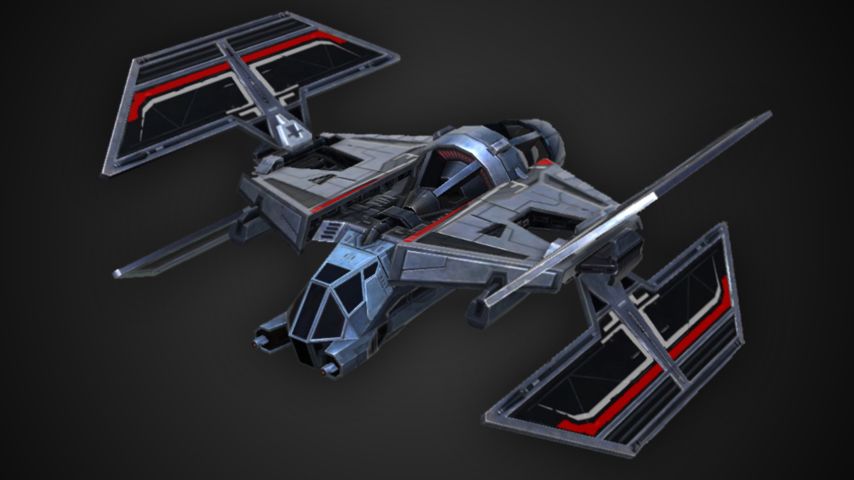 Affiliation: The Chiss Ascendancy
Manufacturer: Imperium Valete

Model: FC-115

Modularity: None

Production: Limited

Material: Durasteel hull
Night shadow
Photo Reactive Fibers
Classification: Bomber

Length: 50m
Height: 15m
Width: 22m
Armament: Extreme
1 HVC117
60 Shots
Twin Laser Cannon Turret
50 Ion Bombs

Defense: Low

Squadron Count: Very Low: 2
Special Features:

Manoeuvrability Rating: Low
Speed Rating: Very High
Hyperdrive Class: Average: 2

Strengths:
+Has a ray shield breaching cannon
+Stealth capabilities
+Speed
Weaknesses:
-The length of the Mass driver leaves little room for anything else
-Has terrible maneuvering
-Defenses are relatively low

Description:
A ship thought up by Desmond C'artyom. One to replace the traditional proton bomber. The vessel features a drop bay loaded with a cluster of ion bombs. The bombs are delivered via a small jet that gives them a slight thrust in the desired direction. The ion bomb carries a minuscule amount of fuel, relying more on the thrust to carry them through the zero g to target. As such they are designed more for slow moving or stationary targets. The HVC has been been turned into a ship. Pretty much a flying gun.

Being capable of stealthing into enemy lines gives them the ability to operate without a fighter squadron. It mimics the colors of its environment to make it next to impossible to spot even as it enters a planet's atmosphere by taking on the color of the planet below on its upper half and the color of the sky or space and displaying it on its lower half. It also features sensor baffling tech, but the craft is given away when firing its weapons or if it breaks comm silence. Once in place the heavy mass drivers are designed to take out enemy shields or other infrastructure designated by command.

The ship is unwieldy and bulky. There is little room for the crew and its quarters are cramped and uncomfortable. This sacrifice has been made to accommodate for the technology put into it. It is a fairly slow craft. It can be out run by most fighters. When the stealth tech is disabled these ships are generally defenseless. More useful as hit and run guns then anything. Also when operating at top speed they become more easily detectable.

Development Thread:
A warlord's heart
The Eight-eight Fleet

Intent: To provide a bomber for the Chiss Ascendancy
Who Can Use This: The Chiss Ascendancy
Primary Source: http://starwarsrp.ne...5/#entry1457265
Edited by Desmond C'artyom, 01 February 2019 - 09:04 PM.