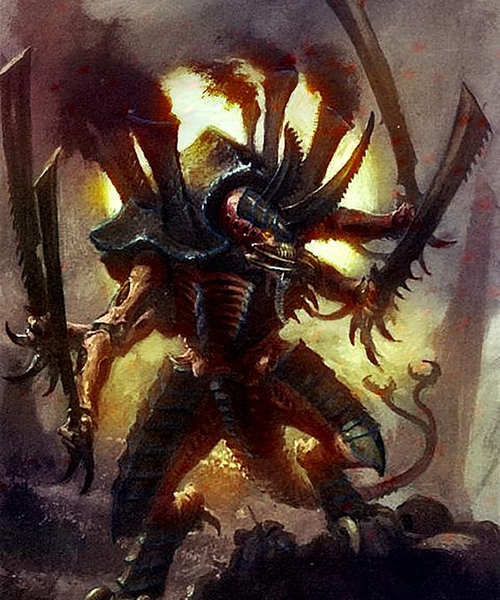 RANK:
Surge Lord -
Firstspawn
SKIN:
Hardened, Dark Orange Exosekelton
FORCE SENSITIVE:
Force Dead
---------------------------------------------------------------------------------------------------------------------------------
STRENGTHS AND WEAKNESSES :

-Large Target
+Four Arms, Two Legs.
-Can take Pity on Twi'leks
+Loyal to the Hive
-Bound to the Hive
+Firstspawn have some freewill.
-Slower than most of the Surge.
+Tougher than most of the Surge
-/+ Force Dead
Large, Dark Red and covered in a strong exoskeleton. The force dead creature walks as a hunter would. Twi'leks when infected by the Terminus microbe take on surprising alterations. If they survive, which is about 1 in 12 at present. They get bigger not 10ft tall but bigger than they were. Their Lekku's become as hardened Mandibles around their jaw, or spikes around their head. Their usually dexterious hands become as razor sharp claws. Though it varies between individuals of course, this Surge Lord has a very sharp jaw, four arms, and a tail that snakes around behind him. His back and head are exceptionally thick and well armored, as are his limbs, twisted beyond recognition of what he once was, he often has spikes fitted to his head but they are optional pieces of armor. As a Surge Lord, he has spent several months if not longer in hive maturation chambers to increase his physical mass and make him a more imposing presence to better enforce the Hive Mind's focus.
Early BIOGRAPHY:
Born on the streets of Nar Shadda as a handsome Green Twi'lek, Akestos was known for performing dangerous acts with swords, and also not chopping his arms off while doing it. The sword-dancer gained some recognition for his efforts at retaining his arms, and went on to perform at local clubs and casinos with higher paying guests. It was there Tadietti Tann, or lady Blue spotted him on one relaxing evening doing business. Impressed, Tadietti offered Akestos a place in her service, both because he could entertain but also because of how handy he was with a blade at the same time.
Akestos became
Tadietti Tann
s bodyguard for sometime after her separation and underworld war with
Goros the Hutt
. After serving Lady blue in that capacity for awhile, and gaining some respect for his vigilance, the Twi'lek was sent on a mission to see what had happened to a lost Noghri patrol. Goros was famed for using Noghri as his henchmen, because of how loyal they were to their word and his clever contract that he held them too. Tadi hoped that by saving the Noghri she could make them see reason or that the Hutt they were serving didn't take contracts seriously in the slightest, so why should they.

That was the mission.

Akestos never returned from that simple mission and nor did the Noghri. The Hive Mind did, with Akestos an active part of its will, and also a significant part of The Surge Impulse. Now when he is seen, bad things tend to follow. His time spent in their hive structures, was as a prototype for creating Surge Firstspawn, Predators or those who smaller Drone's and soldiers could rally around. What the Swarm found was, twi'lek DNA reacted VERY well to the Terminus Agent, making it more malleable than the Hive Mind had anticipated. Most captured Twi'leks still perished of course, more when the Hive really began testing what was possible, but it was very promising.

Exist, Expand.
None
None
---------------------------------------------------------------------------------------------------------------------------------
Edited by Akestos, 10 February 2019 - 05:25 PM.