Link For The Lazy: http://starwarsrp.net/map/
THE NEW HOTNESS

Map Navigation Bar: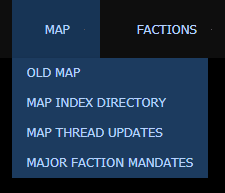 Functionality:
1. Ability to update the map quicker.
2. Retain multiple maps.
3. Search function for planets/markers/etc.
4. Provide metadata for planets/markers/etc.
Questions:

1. Yes, it's a work in progress. Plenty of planets are still missing.
2. Yes, we plan to add more maps to the software, like Netherworld or Companion Galaxies.
3. Yes, I'm aware there's no coordinate function currently, it is a planned feature.
4. No, I'm not planning to add features like hiding elements on the map, or extrinsic stuff like adding hyperlanes at this time.
5. Yes, I'm taking suggestions, so long as they're serious and are not covered by the points layed out above.