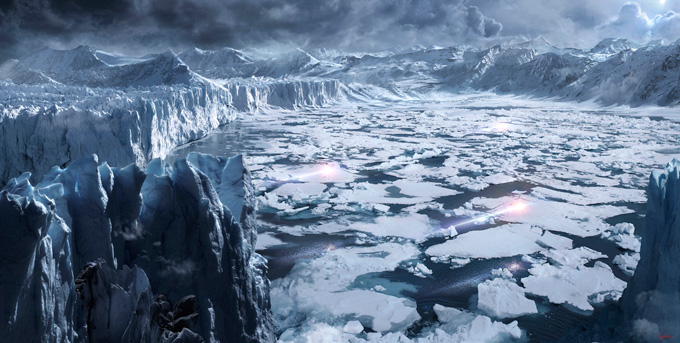 Location: Ilum
Objective: Teach
Tags: Alden Akaran Xobos Yakieer
Thoughts: "It's been almost twenty years..."
The journey through deep space had taken some time. Ilum, a planet on the other side of the galaxy, was not as safe to visit as it once had been. Rather than arrive in force, Darth Malphas had taken his apprentices and a small number of Magnaguard to act as an escort. As the shuttle slowly descended onto the icy planet's surface, Malphas finally opened his eyes. His amethyst orbs looked from one apprentice to another as he took the two in. He had told them that they were going on a trip for their training, yet that was all they knew. It was a common practice that he gave the apprentices no more information than they needed, and only as much as they had earned. Still, this was sure to be a day they would remember forever.
Two of the Magnaguard stood at either side of the loading ramp. The dark shuttle was overtaken by a bright flash as the rear door slowly rose to reveal the icy planet. A frigid rush came through the shuttle, bringing with it a cold that cut directly to the bone. "You'll learn three lessons on this world. Do you understand me?" He looked to them both intently. "Fail any of them and your training will only be that much slower."
The cold winds still rushed into the shuttle. Adron had not told them they were headed for a planet covered in ice, so they had no cold weather gear, nothing to protect them from the frozen winds. "Right now we're on a lake that has been frozen for centuries. It's almost ten miles to your destination. Most people's lungs would freeze in two." Adron held a hand out to the void, smiling softly as he looked to the two apprentices. "The first technique you will learn is one called, Tapas."
"Everything is tied to the Force, including your body heat. If you meditate on the Force, draw it within you, you can create a barrier that will keep your body temperature at a level state so you can cross this lake. If your focus wavers for too long, your lungs will freeze and you'll die. If you are unable to conjure the barrier at all you won't even be able to leave the shuttle."
"Remember, draw on your emotions. Hate this cold as you hate your enemies and use that to fuel your resolve. Now is your time to show me I made the proper selection for my apprentices." He spoke surely, yet softly as he stepped down the ramp and into the frigid winds of Ilum. As the Force gathered around him he could feel the icy winds pushing against his skin, but they were unable to chill him, the Force yet preserved him.