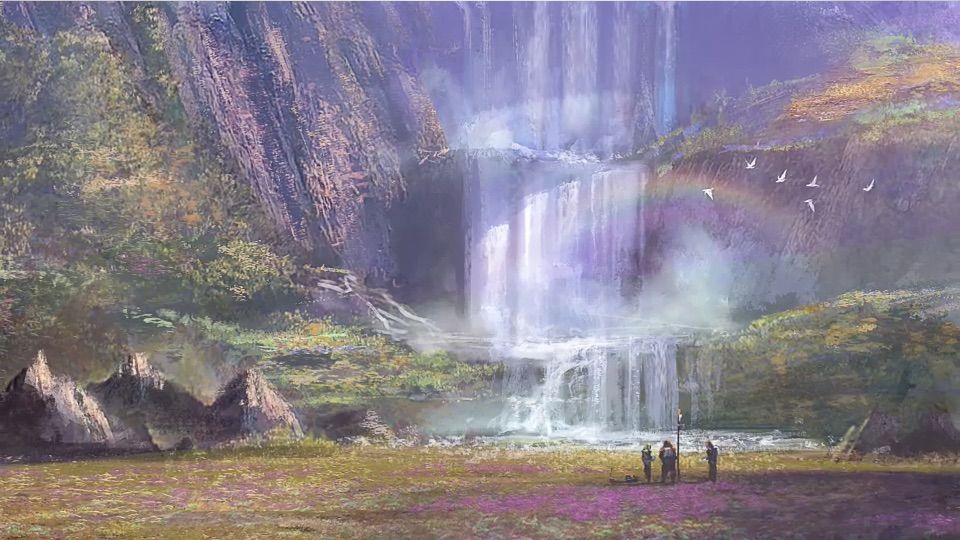 Tython, ancient pillars cracked and worn by age accompanied by lustrous abandoned temples dot the planets green and blue surface. Each is a bastion of knowledge for those who seek it, but what's more there's a boon in the force here. It attracts all manners of sentients and beast alike. Thousands make the pilgrimage to pay homage to the warrior monks who guard it's halls. It is the duty of the Jedi who still dwell here to make sure this boon remains untainted by the dark and these pilgrims remain protected by it's light. Many Jedi maintain a vigilant watch over the planet's surface, but somehow, as always, the dark has crept in.
Jedi Master Draconis Caesar has sensed the budding darkness and seeks to snip it while it remains in its infancy. In the base of a lake he waits like a stone. Crossed legs and hands clasped in prayer he attempts to zero in on the evil presence. The nearby sound of a waterfall rushing into the lake's basin guides his meditative state, it's flow like that of the force. The ripples it creates signals that Draconis echoes, it pings off the living and the inanimate. Draconis believes he has found the signal along with another more familiar presence. He stands and brushes the dust from his battle robes.
He is adorned in simple durasteel armor and robes, something he usually only wears when preparing for a fight. Even so, he fears no amount of armor may be enough to protect him from the evil beast that stalks Tython's fauna. Despite his worries he is calm. Serene. He checks for his saber out of habit, even though the crystal within has bound to his very being. It lets him know his worries are fruitless, his prayers will be answered with success it tells him. For the light shall always remain victorious. Draconis wanders forth in search of the lighter presence he felt. If the darkness is what he fears he will need all the help he can get.
He walks through green foliage, off the beaten path. The ally he seeks is an unconventional one and his choice in place of solace is proof. Draconis notes the beast of the land are timid, even frightened. Unusual for a place such as Tython, where the light nexus calms them to a peaceful lull. They scatter at his approach and Draconis shakes his head as he gently pushes aside the brush. He nears his ally and smiles, despite the darkness it is always pleasant to see an old friend. It is in moments such as these that the light truly conquerors the dark.
Edited by Draconis Caesar, 30 March 2019 - 01:23 PM.