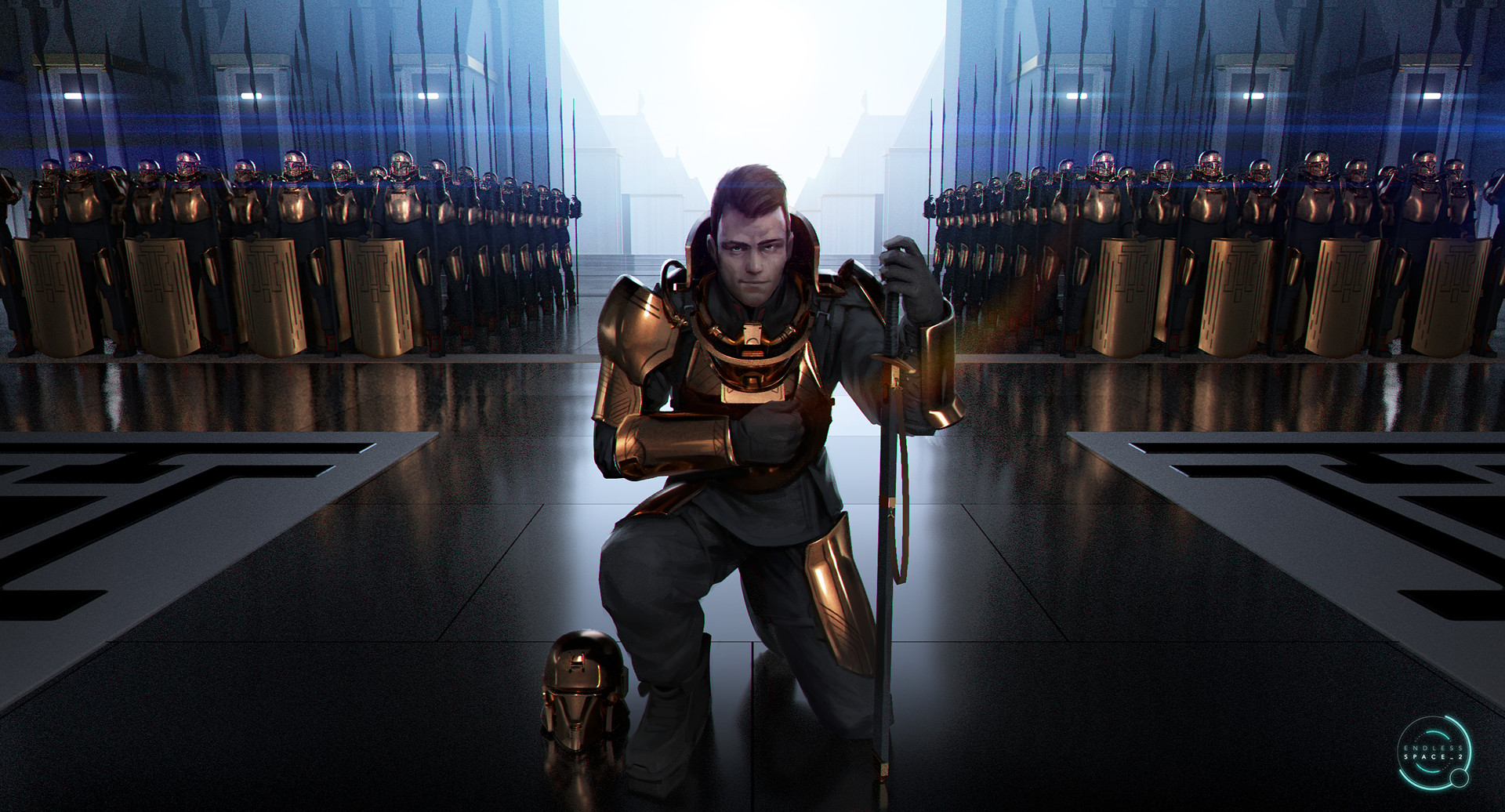 OUT OF CHARACTER INFORMATION
Intent: To create a military group for a minor faction.
Image Credit: Aurelian Rantet
Role: General military order for the faction I'm developing. (Protection for Officers, Carrying out military operations, guards)
Links: The Valiant Order
GENERAL INFORMATION
Unit Name: Golden Echelon
Affiliation: The Valiant Order
Classification: Heavy Infantry
Equipment: Durasteel shields

Description: The Golden Echelon is surely a sight to behold. Hundreds of perfectly organized troops in glittering golden armor holding similar shields both emblazoned with the three pillars that represent the Valiant Order.
COMBAT INFORMATION: The combination of Unit Size and Availability below is the indicator of how numerous your unit is. Stormtroopers for instance would be considered Large/Common, while Rogue Squadron would be a Small/Unique unit. Majority Force User Units are prohibited from being Common or Large. The stronger and more specialized your unit is (FU or NFU), the smaller and less common it should be.
Unit Size: Medium
Unit Availability: Rare
Unit Experience:

Trained

Combat Function: The Golden Echelon has several specialized tactics often resembling much more refined tactics of ancient warfare:
Shield Wall: Using their Durasteel shields, the Golden Echelon forms a personal barrier. Not only is this effective against melee, but the Durasteel shields can take an incredible amount of punishment allowing for ranged combat as well. Usually the front row holds the shields and puts down inaccurate oppressive fire with small arms while the back row takes their time aiming between the shields for more accurate and deadly shots with larger weaponry. This tactic is especially effective in space ships due to long corridors with limited flanking capabilities. The Shield Wall has been used to completely separate annexed territory within ships being boarded and establishing a foothold on the ship. This tactic is basically their go to tactic in almost every situation.
Bull and Horn: This tactic is most often used with the Shield Wall, where a large column of Knights moves forward and surrounds the enemy in a wall of shields, and proceeds to either enclose around them and slowly widdle them down with melee or slowly pick them off with ranged weaponry until all within the circle are dead. This tactic is mostly used when the Knights of the Golden Echelon outnumber their foe.
Small Squad Deployment: Should the enemy vastly outnumber the Golden Echelon, the larger force will split off into much smaller forces (roughly 20 to a group) and split up to take advantage of smaller choke points (Buildings, small hills, etc) to effectively create small heavily fortified encampments. The basic idea behind this is to split up the enemy forces as much as possible and eliminate them through attrition.
Strengths:
Boarding: Combat within ships is where most of the Golden Echelon's tactics shine and so they find the boarding of ships to be fairly routine and easy to accomplish.
Barbarian Destroyers: Those of lesser technology (especially for those who haven't developed blasters yet) stand very little to not chance against these shield wall tactics.
David Vs. Goliath: The nature of effectively being a walking fortress means that Golden Echelon companies can deal with foes with significantly higher numbers than themselves.
Weaknesses:
Brittle Tactics: The Tactics of the Golden Echelon have very little flexibility, meaning that large vehicles or untrained troops have a hard time fitting in with these outdated tactics.
Trained Unison: The unity needed for swift and fluid movement of the shield wall as well as the courage needed to stand there and hold a shield against waves upon waves of enemy forces means that heavy training and conditioning must be put into every individual wishing to join the Golden Echelon and this process can often take years and be quite expensive.
Lack of Discretion: Heavy armor made of what looks like glimmering gold means it is quite hard for the Golden Echelon to be discrete. So covert missions or missions where they wish to remain unidentified are practically impossible.
HISTORICAL INFORMATION

The Golden Echelon has existed for as long as the Valiant Order has existed. Much of this warrior order's history has been lost to the ages but what is left of their records branches back all the way to the days of the Galactic Empire. Their presence was mostly tolerated by the Empire as they shared ideals of authority and order and tended not to clash with the Empire. They were even hired by Imperial Officers to deal with the Rebel Alliance terrorists and scum scattered throughout the galaxy. However, upon the fall of the Empire their misdeeds although done in the name of peace and prosperity did not go unpunished. Their top leadership was brought before the courts of the New Republic and sentenced with a variety of war crimes. Many deserted after this, and their numbers slowly dwindled until a mere 250 remained.

Yet when an extra-galactic threat, the Yuuzhan Vong, threatened the galaxy the men and women of the Golden Echelon fought with tooth and nail to push them back. They refused every offer to pay them, asking only for resources to maintain their arsenal.

After the threat was put down, the Golden Echelon saw perhaps their largest boom of prosperity. Three massive cruisers, the Prosperity, Dominion, and Shield fielded thousands of Knights to dozens of worlds. Great plaques were put up within the cruisers to tell the stories of the great heroes of the order as well as keep a running tally of just how many pirate navies and armies had been defeated by their hand. Recruits flocked from every planet they visited and many planets who were under their protection shared resources freely with them.
Much of this prosperity can be attributed to Emperor Vermillion I the leader of the Valiant Order and High Marshal of the Golden Echelon. His title was purely ceremonious as he came from a royal bloodline that far outdated the order. Under his leadership, much of the old system of officers coming from a few noble bloodlines was abolished and much of the order turned into a meritocracy.
Since then, the Golden Echelon has lost much of its glory yet the 'Honorbound Mercenaries' continue to travel the galaxy to fulfill contracts and defend those who are too weak to do it themselves.
Edited by Triaan Makt, 03 May 2019 - 05:00 PM.