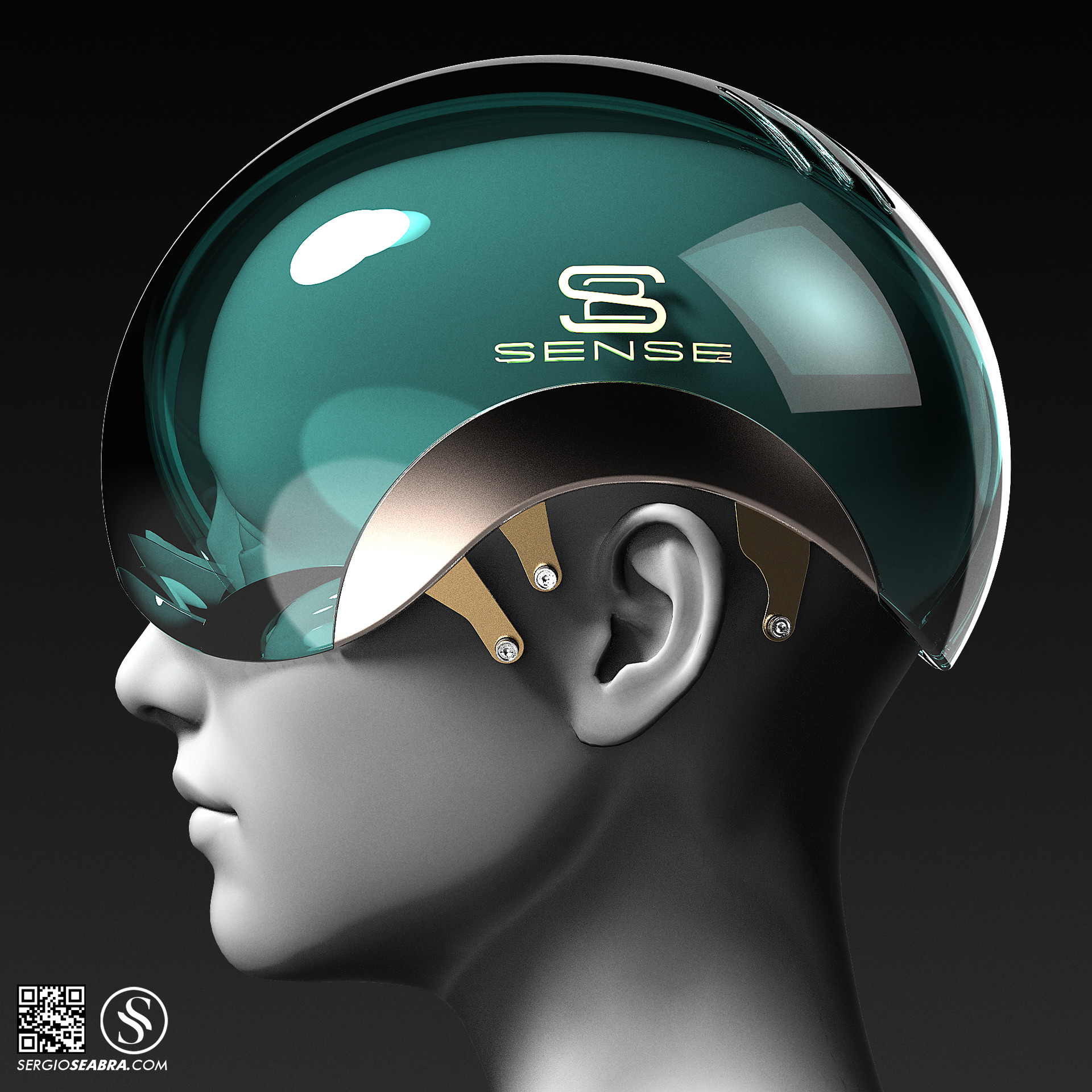 OUT OF CHARACTER INFORMATION
Intent: To create a virtual reality headset to be used for a variety of uses.
Image Source: Sergio Seabra
Canon Link: N/A
Primary Source: N/A
PRODUCTION INFORMATION
Manufacturer: Alpha Corp.
Affiliation: Alpha Corp. and customers
Model: Sensory Experience Now through Simulated Environments (aka, S.E.N.S.E.)
Modularity: No, parts are unique and made only by Alpha Corp.

Production: Mass-Produced.

Material: Plasto, Various Computer Bits, Glass, and a Neural Interface
SPECIAL FEATURES
Complete neurological immersion, meaning that anyone in a virtual reality created by a S.E.N.S.E. can feel, taste, smell, see, and hear as if they really were in this fake reality. The amount in which one can do this is fully customizable, usually depending on the server/world one is using. Such as in a world used to be a video game one wouldn't want to feel pain, especially if the game is violent in nature so pain is prohibited. The S.E.N.S.E. has several mechanisms in place both physical and in coding to prevent anyone from feeling too much pain, but these can be over-ruled by skilled slicers or those who are familiar with the inner workings of a S.E.N.S.E.

World Building: If one has a powerful enough computer to run a server/world one is able to create their own planets with NPCs and Monsters and the whole works using easily accessible tools. All of this is obviously only available for those willing to pay a monthly subscription for their world to remain active but a few skilled slicers have found a way around this. These worlds can fit nearly any niche, and their mechanics are fully customizable as well.
Strengths:
Reality in Your Hands: The amount of experiences available to anyone with a S.E.N.S.E. are near countless and can provide for near centuries worth of enjoyment in nearly any way anyone could ever want.

Cross-Galaxy Network: Seeing as servers/worlds can be hosted by individuals (should they have a powerful enough computer) and are not reliant on Alpha Corp. that means that S.E.N.S.E. worlds are accessible on nearly every planet, and even if you don't have anyone on your world who can host one you can use the S.E.N.S.E. network to connect to any digital world on any planet as long as it isn't locked.
Weaknesses:
Addictive: Many can become addicted to these virtual worlds, spending hours, days, even weeks fully immersed. This can ultimately lead to heavy disassociation with reality.

​Disassociative State:

As people who spend far too much time in the S.E.N.S.E. have difficulty telling what's real and what isn't and this ultimately leads to many problems. Few recorded deaths have actually happened because of this, but there are always incidents that Alpha Corp. usually sweeps under the rug.

Limited by Understanding: Simulations are never perfect, as sapient organisms can act irrationally and not always in a way that the S.E.N.S.E. can predict. And the S.E.N.S.E. cannot simulate anything new in a realistic setting, only that which has already been discovered or created. So no inventing new forms of FTL travel using realistic physics if realistic physics already say there isn't a new way for example. And no like, exploring the surface of a planet that hasn't been scanned unless someone goes in and creates a fictional surface for it.
DESCRIPTION

The S.E.N.S.E. was a revolution in how the galaxy defined an experience. Not only did it vastly effect any gaming communities across the galaxy but it assisted in the scientific and cultural as well. People no longer were separated by space, and could visit their loved ones in a simulated version of their house/apartment even if they were on entirely different planets. Scientists and Anthropologists could run complex simulations with near perfect physics simulations of the S.E.N.S.E. studying ancient cultures or geting up close to black-holes. There were obviously limits as the S.E.N.S.E. could not simulate anything really new, but eitherway it helped redefine many fields across the galaxy.
Recently Alpha Corp. has seized on its military application, selling it in bulk to militaries across the galaxy to run complex training exercises or to perfectly simulate enemy compounds so that agents can train over and over again how exactly to break in without being spotted.
Edited by Myra, 15 May 2019 - 10:46 AM.