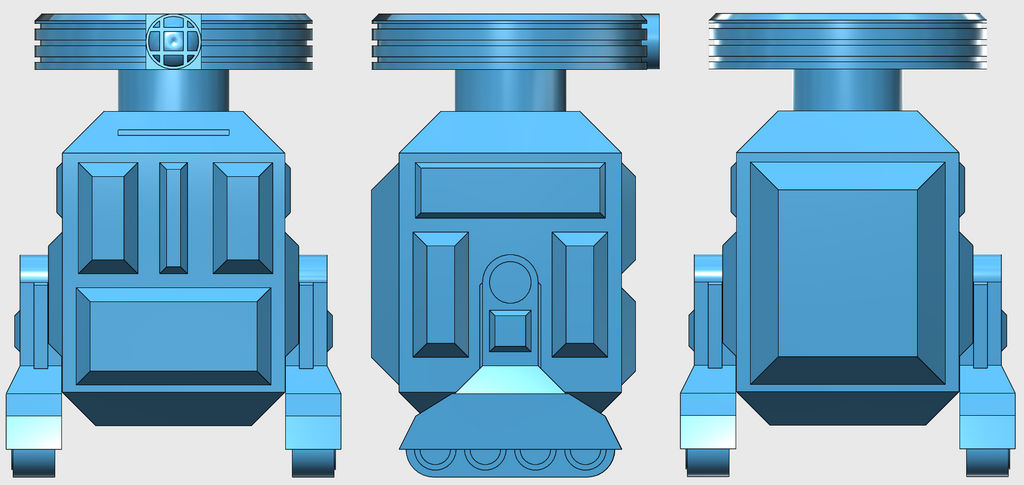 OUT OF CHARACTER INFORMATION
PRODUCTION INFORMATION
Manufacturer: Concord Specialized Technologies
Affiliation: Open-Market
Model: V1 Series Astromech

Production: Minor

Modularity: Yes, Can have a full body, or be mounted as a head unit. Tools can also be changed out.
Material: Durasteel, droid parts
TECHNICAL INFORMATION
Classification: Second Degree
Weight: (Via Metric System)
Height: 0.93 m
Movement: Tracked legs
Armaments: None standard
Misc. Equipment: Optics, ship repair tools, basic scanner.
SPECIAL FEATURES
Strengths:
Programmed to have higher independence and creativity.
Can fit in any standard astromech slot.
Weaknesses:
Can only speak in binary.
DESCRIPTION
The V-1 series astromech was design by Concord Specialized Technologies to to pair with their starfighters, as well as others. Unlike other droids, the V-1 has a boxier frame, and a head dome similar to that of the earlier utility droids. While not much better or worse than most other astromech models, the V-1 is programmed to be highly independent and creative, which has both attracted and dissuaded buyers.