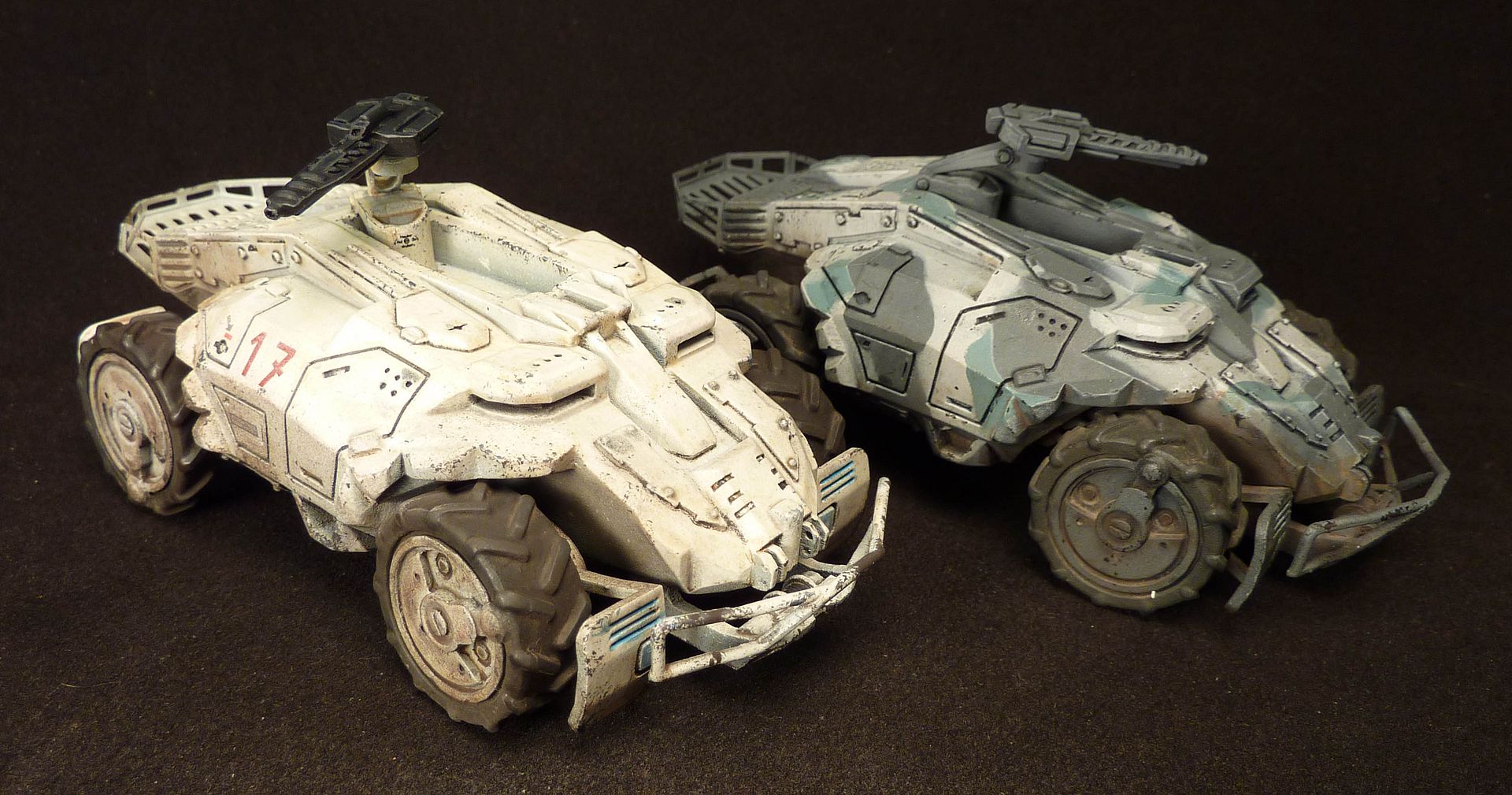 Image Source: DWArtist
Intent:
To create a next generation Infantry Fighting Vehicle for the Republic's Mechanized Infantry
Development Thread:
As Needed
Manufacturer:
Republic Defense Forces, Project Taurek
Model:
Taurek IFV Mk I
Affiliation:
Galactic Republic Military
Modularity:
Main weapon can be swapped fairly easily.
Production:
Minor
Material:
Durasteel, Alusteel, Glasteel, Rubber, vehicle components, weapons components
Role:
Infantry Fighting Vehicle/Troop Transport
Height:
3.75 m
Length:
7 m
Width:
2.5 m
Weight:
16,750 kg
Minimum Crew:
1 (Driver)
Optimal Crew:
3 (1 Driver, 1 Vehicle Commander, 1 Gunner)
Propulsion:
Wheels
Top Speed:
On Road: 273 km/h Off Road: 100 km/h
Armaments:
-Main Weapon: 1x 25mm 5 Barrel Gatling Gun turret (Progressive RH Parabolic Twist, 11 Grooves)
Classification: Slugthrower
Size: Vehicle Mounted
Length: 2.11 m
Weight: 122 kg
Ammunition Type: 25 x 137 mm Cartridge
Ammunition Capacity: 4000 Round Drum
Effective Range: 1000 m
Rate of Fire: Variable up to 4000 rpm
-Muzzle Velocity: 1000 m/s
-Secondary Weapon: 2x 40mm Grenade Launchers, forward facing, 90 Degree firing arcs.
Classification: Grenade Launcher
Size: Vehicle Mounted
Length: 1.09 m
Weight: 35.2 kg
Ammunition Type: 45 x 53 mm Cartridge
Ammunition Capacity: 48 Grenade Belt
Effective Range: 500 m
Rate of Fire: Variable up to 350 rpm
-Muzzle Velocity: 240 m/s (Average)
-
Active Defense:
1x Anti-Missile Octet
-5x Internal Reloads
Squadron Count:
4
Passenger Capacity:
5
Cargo Capacity:
With Passengers: 100 kg Without Passengers: 2000 kg
Misc. Equipment:
IFF System, Cross-Spectrum sensor array, satellite communications uplink, line of sight communications suite, 27 mm durasteel ablative armor plating, 14 mm durasteel/alusteel alloy armor hull, environmental seal system, 3 hours of oxygen for full complement
Description:
As the Republic Military re-organized itself to respond to the renewed aggression of the One Sith, certain holes were discovered to exist in the general order of battle. The Taurek project was developed to fill those holes with technology both new and old. Within the purview of the Taurek Project was the creation and deployment of next generation vehicles to assist in both offensive and defensive military operations.
The Taurek IFV Mk I was designed to deploy a light squad of line infantry and then reinforce them in the combat zone. As such, they were designed with a
25mm 5 Barrel Gatling Gun
turret with a 360 degree firing arc and an 80 degree inclination range (from 20 degrees below level to 60 degree above level), two 40mm grenade launchers embedded in the forward facing ventral plating with 90 degree firing arcs, and a single anti-air octet as it's only active defensive measure. Passive defensive measures start and end with its armor, 27 mm durasteel ablative plating over 14 mm durasteel/alusteel alloy main hull. The ablative plating is designed to be hit, damaged, and slough away in 1 meter square sheets, leaving behind an intact armor hull that can take even more beating. The forward hull and plating has two small ports that can be utilized by the passengers to fire personal weapons out of, either side has one such port and the rear hatch has a single port as well, allowing the infantry inside to assist in defense of the vehicle to a limited extent. This vehicle also comes with an environmental seal system that can seal both the cockpit and troop hold from external environmental events, as well as a three hour oxygen supply for a full complement. When the environmental seal system is active, the troop compartment firing ports cannot be opened or utilized.
The Taurek IFV Mk I can be utilized as merely an armored troop carrier, requiring only a single driver in the vehicle cockpit to transport its complement of troops into the battle zone. However, this vehicle is at its most useful when it is employed with a full crew and remaining with its infantry passengers to push an assault or otherwise complete a combat mission. Aside from the required driver, the Taurek IFV Mk I's cockpit also contains a gunners seat, retaining primary control of the main weapon, secondary weapons and the anti-air octet. There is also a station within the cockpit for a vehicle commander. When present, the vehicle commander maintains communications with local units, has secondary fire control over the main gun and secondary weapons, and relays commands. When the vehicle is alone, the vehicle commander has the ultimate authority over the use of the vehicle and its embarked soldiers.
Primary Source:
-Main Idea
-Main Gun
-Secondary Weapons
-Active Defense
Edited by Samuel Quentin, 17 July 2015 - 08:00 AM.