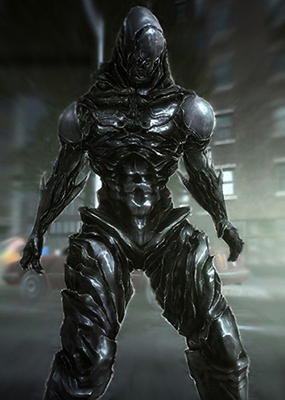 |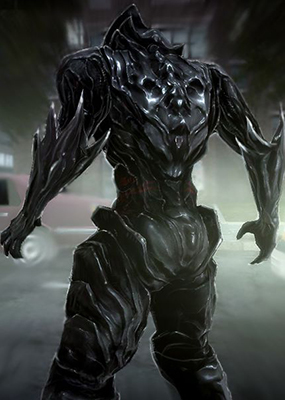 Intent:
Third Tier Terminus for Predators or Above. Infection Armor, Variable Shape, Size and Color.
Affiliation:
SwarmSurge
| Closed-Market |
Terminus
and
TerminusFlux
or other Infection agents at Stage 5 or Stage 6, with time in a Hive Maturation chamber.
Model:
Terminus Barab Armor
Modularity:
Highly. It is up to the individual or creature how it shapes.
Classification:
Multipurpose
Blasters/Particle: High
Kinetic: High
Lightsabers: Average
Heat/Plasma: High
Acidic/Biological: High
Ion: Average
Electrical: Average
Sonic: Average
Sonic Wave (Concussive) Average
Radiation: Average
Explosive: Average
Tensor or Tractor: Low
Cryoban (Heat Absorption): Average
Cold: Average
- Acidic and Biological: The outer shell is hardened to biological warfare. The Hive is biological warfare, it fought long and hard to be top of the food chain. Biological agents have a much more limited effect.
- Heat/Plasma: High Resistance. The armor really enjoys the heat, the hotter the better. Blaster resistance is included in this upgraded variation, the temperature regulating nature of the flux additions dispersing the sudden heat and energy discharged from blasters more effectively.
- Kinetic Damage: High Resistance to Kinetic. It doesn't have the same as a regular
Terminus
melee focused armor, it still offers good coverage, cushioning and tensile strength.
- Bio Restoration. Slow Regrowth of Damaged Parts. Damage regrows over a day if it's superficial to the armor, the
TerminusFlux
bacteria can also help with slow healing of any wounds beyond it, carried around the armor internally by
Kae Vines
. For larger damage to the exoskeleton it might take a week to repair.
- Can grow to shape any creature or individual, adaptable to extra weapons, talons, claws, tails, wings or other additions designed by the Hive Mind's focus and the TerminusFlux integration. These additions don't grow on the spot, they take months, and in the case of this armor, any additions at all require a Hive Maturation chamber.

- Very heavy weight. Only species with a lot of muscle mass for their size are going to be moving in this well.
- Limited Production. Predators, Firstspawn or Intelligent Convergence Only. Making up only a small part of any surge.
- Tensor or Tractor: Low Resistance. Like most biological armors, tensor and tractor damage them more easily.
- The armor is the result of biological infection, meaning if you are wearing it, chances are you are part of the hive mind, swarm's will or surge impulse and under its influence.
- The armor needs to grow. It takes extra nutrients to grow, and significantly more food than usual while it is growing. The usual infection period for the
TerminusFlux
bacteriophage is 15 days to reach stage 6
- For this Flux based armor to be functional, the updated armor requires 15 days in a Hive Maturation chamber on top of the 15 for infection.
- The armor doesn't come off naturally. It's a natural exoskeleton grown around a creature or individual.
- You stand out in this armor. On its own, with no extra biotech, you are not going to be hard to spot in a crowd.
- Often but not always, there are several spots to grab hold of on this armor and throw your opponent about.
- There is a lot of pain associated with growing an exoskeleton if you are not used to it.
Coming in a variety of colors and shapes depending on the organism. The Terminus Barab armor is usually a second stage infection armor, given to Hive members via Hive Maturation chambers after integrating more malleable TerminusFlux DNA. It can be grown on ships but given the extra difficulty in incorporating this, only a limited number of specific ships will function with it. Predators and firstspawn are rare in a given surge on ground or space, the same goes for the types of ships this would grow on. Too hard to cultivate to be given to regular soldiers let alone drones. It takes liberal time and application to integrate onto a host.

D13 is used at key points on the armor to reinforce it. Cushioned internally by Microbial mats for added comfort and protection from impact damage. The armor's shell is naturally hardened to biological warfare, and unlike the earlier terminus armors, is not near as vulnerable to cold. Not having any great strength at stopping cold damage, instead, it is insulated via the Microbal Mats from the TerminusFlux Bacteria, making this armor more suited to keeping its user warm.

Inside, the armor often comes laced with Kae Vines, adding to its ability to regrow superficial armor damage and protect any exposed areas. Kae vines pass nutrients around the armor more easily, like blood to a circulatory system or wound. These vines cut down the time it takes to regrow superficial damage from two days to one, but do nothing to alter how long larger fractures or more sizeable missing pieces take to reform.
After the Surge at Barab the Hive was able to redesign itself to function better in difficult environments, though it hasn't yet found a way to mitigate radiation further. The addition of the Barabel DNA allowed for this transition in the Hive, given that they are a cold-blooded species, the armor doesn't try to resist external conditions as much, and instead adapts to them, as a cold-blooded reptile would. This cost it some kinetic resistance but gained it more adaptation to cold.