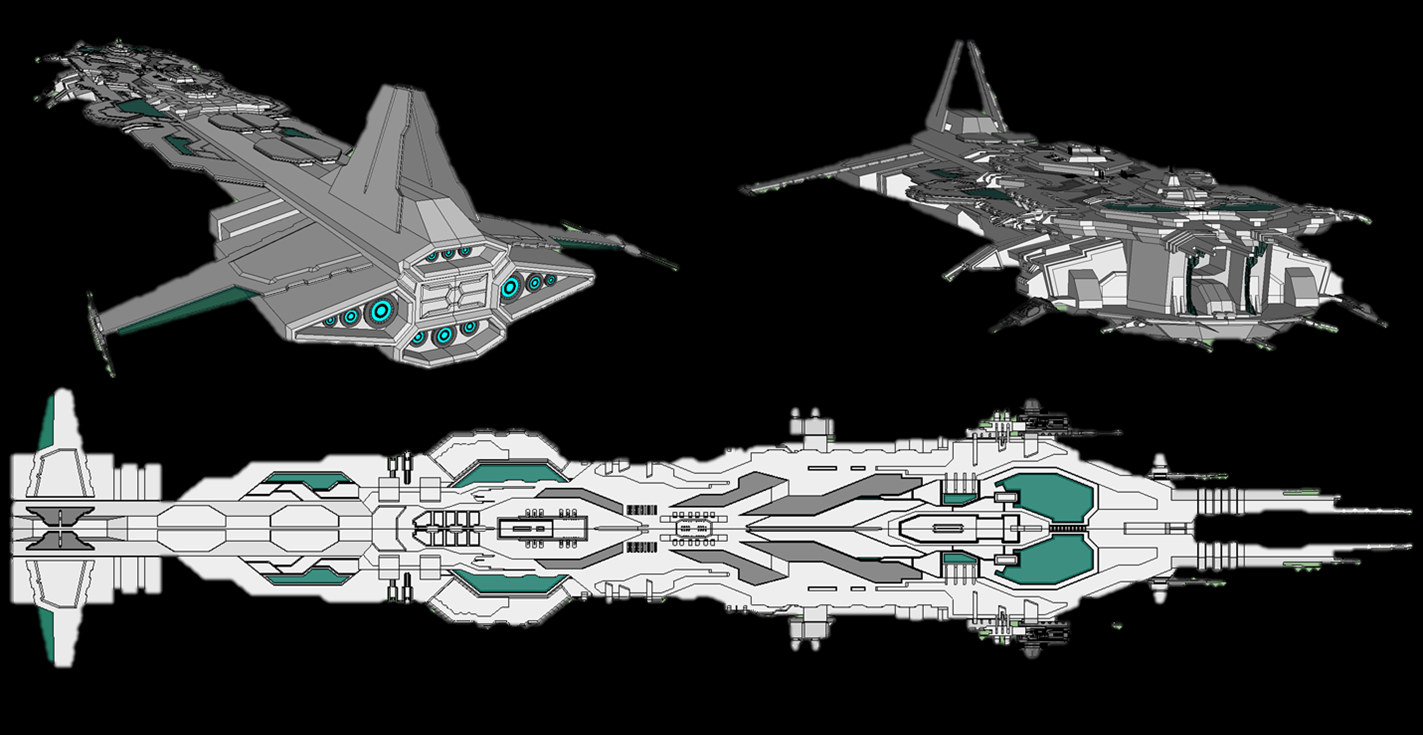 OUT OF CHARACTER INFORMATION
PRODUCTION INFORMATION
Manufacturer: Outer Rim Military Engineering
Affiliation: Silver Spacy
Model: Valor-class supercarrier

Production: Semi-Unique

ASK RICK FOR PERMISSION BEFORE TAKING ONE

Valor (Owned by Rick Kaloo)

Liberty

Pride

Enlightenment

Eternal

Material:
TECHNICAL SPECIFICATIONS
Classification: Heavy Supercarrier
Length: 4863 meters
Width: 1230 meters at back extensions, 850 meters average
Height: 900 meters at tallest point, 500 meters at shortest point
Armament:

Average

Superheavy/Special Weapons

2

superheavy ion cannons (Locked in place on the ends of the large wings extending from the carrier's flanks)

2

triple superheavy turbolasers (Flanking the front point of the carrier)

Heavy Weapons

10 quad heavy turbolasers (Evenly spaced)
20 heavy missile/warhead launchers (Evenly spaced on top of the carrier)
20 heavy ion cannons (Evenly spaced)

Anti-Capital Weapons

40 missile/warhead launchers (Evenly spaced on top of the carrier)
10 military-grade tractor beams (Evenly spaced)

Defenses:

High

Basic Armor/Shielding

Regenerating double-layered battleship-grade energy shielding

Ion/EMP Defenses
Other Electronic Protections
Anti-Boarding

Turadium blast doors

Complex internal layout - Halls leading into halls leading into the same hall, map only accessible by verified crew members

Wall-mounted automatic machine guns

Anti-Hacking (Cyber Defense)
Defensive Armaments

Hangar:

Extreme

(42 squads)
Maneuverability Rating:

Low

Speed Rating:

Low

Hyperdrive Class: 1.5

Backup Hyperdrive Class: 10
STANDARD FEATURES
Living Features

Crew Quarters

Officer Quarters

Admiral's Quarters

Mess Halls

Medical Rooms

Command + Utility

Military Structures
ADVANCED SYSTEMS
Strengths:
Overseer

- The Valor supercarrier can fit and manage a ridiculously large starfighter compliment. Its sensor arrays are some of the finest in the galaxy, allowing for the carrier's captain to effortlessly communicate between multiple vessels at the same time.
Ironclad - In comparison to the smaller Valiant-class supercarrier, the defenses of the Valor supercarrier are far more developed. Reinforced, multi-layered shielding provides a powerful buffer between the carrier and enemy turbolasers, while its own wealth of offensive and defensive firepower can return the favor.
Weaknesses:
Turtle - With its bulk and reinforced defenses, the Valor supercarrier is very slow and tricky to turn.
Light Poke - Being a dedicated carrier, the Valor supercarrier has very little in terms of battleship-grade armaments. Against attack and stealth battlecruisers, the carrier's own armaments are easily overwhelmed.
Description: The Valor-class supercarrier is, as of currently, the second largest project Outer Rim Military Engineering has ever successfully completed. Nearly five kilometers long from its frontal sensors to its rear engines, each Valor supercarrier is meant to represent the pinnacle of the Silver Jedi Order's naval might.
With its massive bulk and ability to harbor nearly a thousand different vessels, a single Valor supercarrier is more than enough to protect core Silver Jedi worlds. In fact, the only carrier vessels that are on par with the Valor supercarrier fleet are the Mandalorian Oyu'baat class of supercarrier and the Sith's Song of Truth. Even in comparison to the other two, Valor supercarriers are better armed than their Oyu'baat counterparts and can move with greater ease than the Song of Truth.
The Valor-class supercarrier shares its idea of two command bridges with its predecessor, the Valiant-class supercarrier, which takes the concept from the Old Republic's Venator-class Star Destroyer. The two command bridges are built on large structures leaning into each other at the end of the ship, with the command section on the left and starfighter section on the right.
Due to the extreme costs of building a Valor-class supercarrier, only five were produced and issued by Outer Rim exclusively for the Silver Jedi Order. Only its smaller brother, the Valiant-class supercarrier, would be produced for the marketplace.