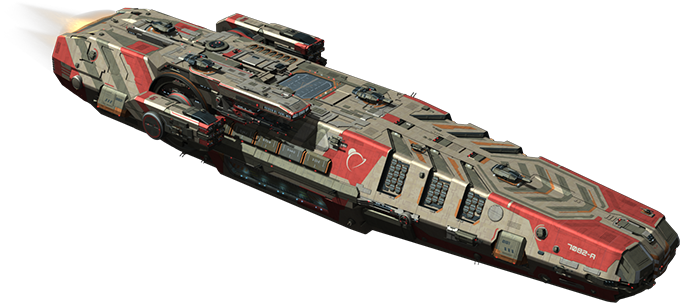 OUT OF CHARACTER INFORMATION
Intent: To update the old Guardian Class Frigate to Factory 4.0. This is a standard flak frigate. It is designed to provide flak support for larger ships rather than moving to the offensive itself.
Image Source: Homeworld Concept Art. Artist unknown.
Canon Link: N/A
Restricted Missions: N/A
Primary Source: Based on and using the name of my old Guardian Class.
PRODUCTION INFORMATION
Manufacturer: Firemane Industries and Technology
Model: FM-002a
Affiliation:

Closed-Market

Firemane and approved marketplace buyers only.
Production:

Minor

Material: Standard ship components.
TECHNICAL SPECIFICATIONS
Classification: Anti-Starfighter, Flak, Support
Length: 300m
Width: 200m
Height: 50m
Armament:

Low

,

10 capital guns.
10 warhead launchers.

Defenses:

Very High

,

(120 defence guns)
Redundant shield generators.
Reinforced armour plating.
E-War protection.
80 x quad lasers (360 degree fire arc)
30 x point defence weapons (360 degree fire arc)
10 x flak cannons (360 degree fire arc)
Hangar: 0. Can dock with larger ships.
Maneuverability Rating:

Average

,

Speed Rating:

Low

,

Hyperdrive Class: 1
SPECIAL FEATURES
Although each gun station is crewed, they can be set to autofire on enemy IFFs.
The Guardian has advanced sensors and tracking software and algorithms to predict Starfighter movement and allow targeting accordingly.
The placement of the defence guns allows a suppressing fire to be laid down on attacks from any direction, with certain vectors having almost every gun able to target.
The ship has numerous jets and thrusters to allow it to tilt, turn and manoeuvre in order to either present a smaller target or direct maximum firepower a certain direction.

Strengths:
Flak. The Guardian features an astonishing amount of defence guns, fully 100% more than the Mk1 Guardian. This can create such a hail of fire that even the best pilot will have trouble escaping.
Sensors. In order to best serve its role as an anti-attack craft ship, the Guardian has beefed up sensors, tracking and diagnostic suites. This is also useful for detecting enemy movements during the battle.
Agile. The Guardian is able to pivot and turn its long, flat top easily in order to better target enemy attack craft.
Weaknesses:
Singular. The Guardian has almost no capital guns. Even corvettes outgun it. It is thus completely ineffective against anything larger than a corvette.
Fragile. Though it has good shields and plating to withstand attack craft, the Guardian will be quickly minced if faced with a cruiser or larger it cannot escape from.
Specialised. The Guardian really has only one skill. It can't launch fighters, duel with other escorts or capital ships or even provide missile support. It's a guardian for bigger ships which
Slow. For a corvette, the Guardian is not quick. It can't keep up with the scouting and picket ships, it has to stay back and provide support for bigger ships.
Cramped. Cramming so many guns and crew into such a relatively small ship means that the Guardian is hard to evacuate from and cannot carry any noticeable amount of cargo or other equipment.
Description:

The redesign of the Firemane fleet came underway as new ways of dealing with problems came about. The old Guardian Flak Frigate had done noble work, but was starting to get long in the tooth. A new model was needed.

Firemane therefore stripped down the old Guardian, using the basic frame, but allowing far more guns to be used on it. By using better yet more expensive components, Firemane had to lower production, but in doing so allowed better power relays and fire rates to be used.

The result is a frigate literally bristling with quad-lasers, point-defence and flak-cannons. It is able to concentrate a hail of firepower in any direction, to the peril of any attacking fighters or bombers.

Tactics for the Guardian are simple; protect cruiser and destroyer class ships by providing them the flak they lack. Fleet doctrine suggests assigning one guardian to each destroyer and one to every two cruisers, though this is open to variation.

The Guardian, because of all the guns, has an unusually large amount of crew. To serve all the weapons as well as the regular ship tasks it has a crew of a thousand crew and officers. It has very little room for cargo, passengers or other non-essential load. It carries fifty marines and officers, included in the crew amount above. Escape pods are provided for all crew, but due to space limits they must be fired in batches.

Overall the Guardian is a very strong ship for its one task; defeat enemy attack craft. It cannot resist heavy enemy ships though or provide fire support against enemy escorts or capital ships.

Guardian Mk 2 Flak Frigate