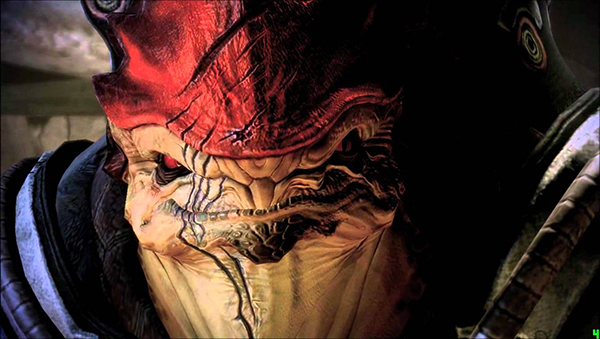 Skin: Thick, C
ream/Yellow and Red Colored
Force Sensitive:
Unknown, shouldn't be detected by anything or anyone.
---------------------------------------------------------------------------------------------------------------------------------
Strengths:
+ Huge and Tough
+ Massive Strength
+ Heavy Weapons and Demolition Expert
+ Medical and Anatomical Knowledge
+ Loves Heights
Weaknesses:
- Huge. Big Target.
- Slow
- Clumsy (with anything but Explosives | Weapons)
- Breaks things easily
- Hates Small Spaces
- Requires Double Rations
- Stupid Name
Resembling a large upright bull. Muscled arms, a huge barrel chest, legs like tree trunks and a thick skull. Houks have thick skulls, but this one's so thick he's used it for metal work. His arms and feet truly are massive. Finding armor to fit them is a pain in the rear, so he sticks out. His skin like most of his race is thick but his has a creamy yellow color to it, lined with red, perhaps indicating a sub species to an outsider.

Biography:
Vertigo or Rok Dex as he sometimes goes by has always been big. Most Houks are so that's about average. They grow up a few inches taller than Rok quite normally, so even tall as he was, he didn't stand out all that much. You could say Rok was normal in most respects for a Houk. In his younger days he fought a lot to settle disputes but not with the aggression of say a Trandoshan. Most Houk prefer stealth as a way to get the upper hand. How you are stealthy while being 8ft 3 is anyone's guess, but to another Houk perhaps you can be. At least Vertigo thought the idea was stupid and often remarked it. The way he saw it, Houk are meant to stand in the way, be the wall, or break through it with their fists. Wookies can equal them in strength and a couple of other species, but that's about it. He used that strength instead of stealth, and trained it till it gave him an edge.
Rok has a level head most of the time, sure he's got a temper but the gym and a workout calms him down. In his youth he took work guarding arms shipments for Fire For Effect, but disliked the use of their labor and testing methods. One day after a short argument Vertigo just up and left, taking the door with him. Signing on with a freighter and finding a life in space, he got by. Rok earned the nickname Vertigo from the smaller species like rodians he was working with, and it stuck. He LOVES heights but HATES small spaces, which to him can be anything from a normal sized room to a drop pod, feeling restless when trapped in one. This came from being trapped on a freighter that was being crushed in a high g environment as it sank in orbit. He lost a lot of good friends that day, and its stuck with him.
Who rescued the remaining crew? The Silver Jedi did, led by the rangers. That was the day he signed his sizeable bulk up to the SJO Rangers, and he's not looked back. Specializing in heavier weaponry, he enjoys carrying cannons that should otherwise be fitted on a weapons platform, and chewing spice, at least when the CO's not looking. Yeah maybe he hasn't shaken his species underhanded or sly tactics entirely, and that comes out in how he fights. Since losing so many friends in one accident. He has been training to be a field medic and doctor to the injured, because he wants to be able to save those he can when it comes down to it. Though he's never going to make a surgeon, he's too clumsy, he can at least patch people up in the field.
N/A

N/A
N/A
---------------------------------------------------------------------------------------------------------------------------------
Edited by Vertigo, 15 February 2019 - 11:57 AM.