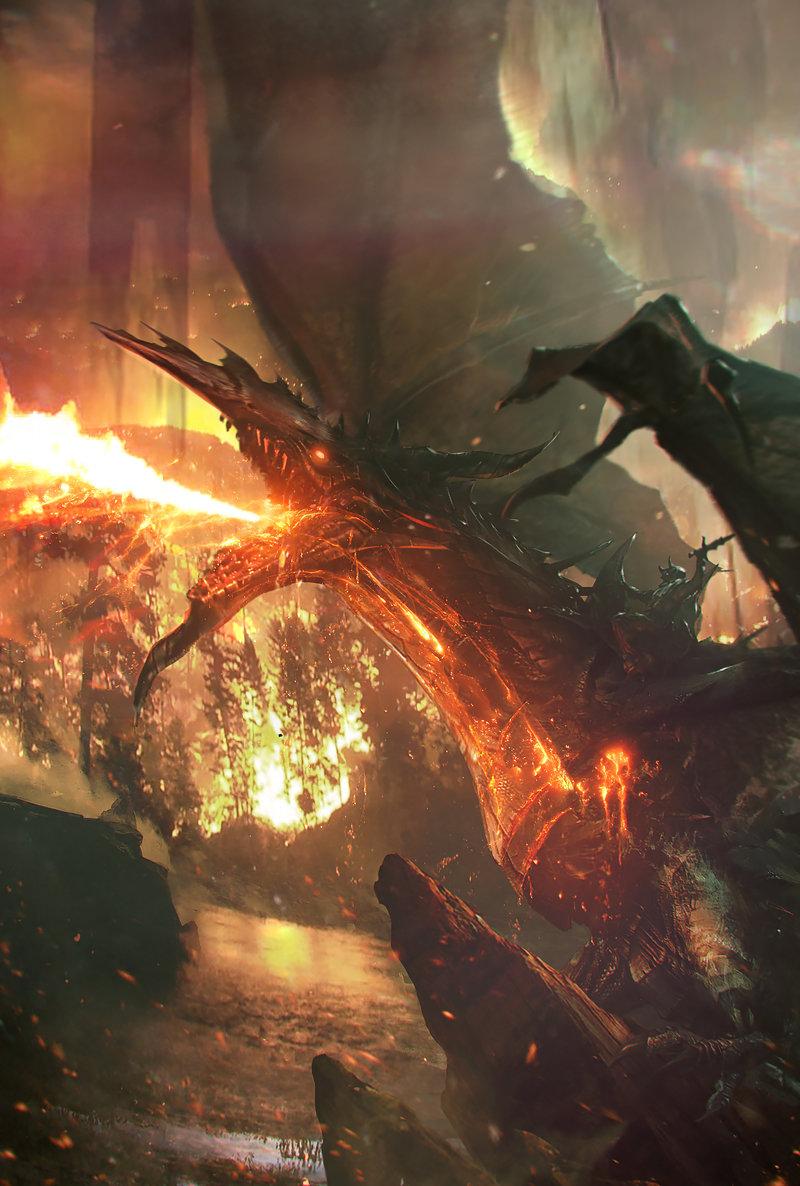 Out of Character Information:
General Information:
Name: Mustafar Obsidian Dragons
Designation: Sentient
Origins: Mustafar
Average Lifespan: 2,000- 5,000
Estimated Population:

Semi-Unique

Description: Mustafar Obsidian Dragons, often come as large black covered creatures, blending in with the vast lava covered landscapes, their scales are black as obsidian with some of the rock embedded into them, even able to live in lava, their fire so strong enough that it equals that to Lava and like all dragons has horns and wings
Physical Information:
Breathes: Type 1, 2
Average Height of Adults: 17.28 ft
Average Length of Adults 21.35 ft
Skin Color Black Scales
Hair Color: Black if any at all
Distinctions: Very few distinctions with large thick black scales, mixed with Obsidian rock all over their bodies.
Races: N/A
Force Sensitive: All
Strengths and Weaknesses:
Tough Scales: Due to the harsh enviroment the dragons live in, they are able to stand against anything from Lava to Lightsabers
Wrath of the Dark SIde: Given they were born on a world where the dark side is strong, their alignment is dark making other dark siders their masters and forming a strong connection mentally.
Death from Above: Quick and deadly hunters, they are best known for ariel tactics against their prey
Dragons are smarter than you think: Like some Dragons the Obsidian possess intelligence greator than that of normal beings.
Weak points: While they have a protective layer of Obsidian to stregthen their scales they often have weakpoints found either at the lower abdomen towards the stomach or the back of their necks.
Reflexes: While smart and deadly creatures due to their massive size they are slow. Often vulnerable to those agile and quick enough to defeat it
Advanced Weapons: Weapons such as Railguins, Hypervelocity canons and high powered Turbolasers are strong enough to penetrate through the Dragon's thick skin.
Culture:
Diet: Carnivore
Communication: Growls, Body Language, Telepathy
Technology level: N/A
Religion/Beliefs: N/A
General Behavior: Fearsome creatures, who live in dark caves deep within erupting Volcanos, drawn to beings or places where the dark side is strong, often living alone or at rare times in groups. A primative society they would often fight with females, before the female knew the male was strong enough and was allowed breed often laying three eggs at a time.
Historical Information:
Once a race of peaceful dragons in a time when Mustafar was a lush world, when the world was a target by the Sith, after the destruction caused by the Sith Lord Momin in his attempt to create a work of art for the dark side using the world as his canvas, the lush world was turned into a nightmare, covered in lava and volcanos, the dark side energies corrupted the creatures making them drawn to it. As Mustafar changed they were worshipped and feared by the superstious Mustafarians as gods and even bad omens. Every thousand years they awaken from hibernation, often hunting the skies. They are a rare sight to behold on the ash covered world, when even one is spotted it is often a sign from the native Mustafarians as a sign from one of their gods.
Edited by Kyrel Ren, 07 June 2019 - 01:54 PM.