OUT OF CHARACTER INFORMATION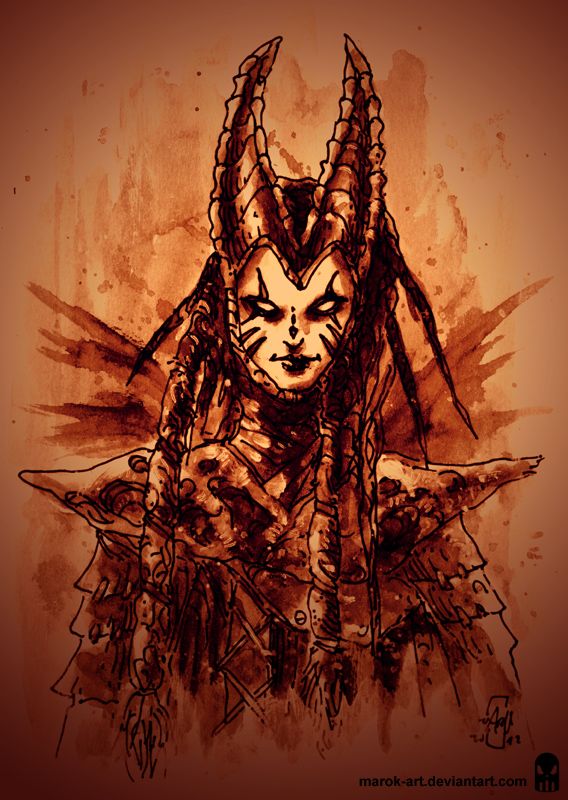 Intent: To create a villain for an upcoming thread, to be killed off or spared by the end at the player's discretion.
​Image Credit: MAROK-ART on devientart
Role: Witch, Marauder and general villain of the story.
Links: N\A
PHYSICAL INFORMATION
Age: 28
Force Sensitivity:

Master

Species: Zabrak(Dathomirian)
Appearance: Tall and thin, with pale white skin that contrasts with various blackened tattoos, white hair kept in braids wrapped with red cloth under her bone like, pointed crown and cowl. she often wears red robes that have been decorated with primitive armor and metals.
SOCIAL INFORMATION
Name: Tali Kaza
Loyalties: Dathomir, and Herself.
Wealth: A witch has no need of wealth
Notable Possessions: Stolen Astro class LX Freighter[/url], And a pair of Lightsabers.
Skills: Dathomiri witchcraft,
Personality: Sister Kaza is impatient, Wrathful, and overconfident, a dangerous combination indeed.
She desires to prove herself worthy of leading her people, and will stop at nothing to achieve that goal.
COMBAT INFORMATION
Weapon of Choice: A pair of lightsabers.
Combat Function: Dualist\Commander
Strengths:
Darksider: Kaza was born and raised on dathomir, surrounded by the dark side since birth and trained in it's use since she could first walk.
Fast learner: Kaza learns quickly, it's how she's come this far in so little time after all.
Weaknesses:
Impatient: She wants something, and she wants it now. This line of thinking can lead to rash decisions where patience and caution is advised.
Overconfidence: Kaza has in inflated ego brought on by her ability to learn things quickly.
HISTORICAL INFORMATION
Sister Tali Kaza was born on dathomir 28 years ago, being raised and trained as a nightsister. Every physical and magical skill that she has been taught, she learned quickly, more so than her sisters, leading her to rise among the sisters at an early age. She has done many things, Tame rancors, attend meetings in the sith empire, hunt for ancient artifacts, kill jedi. In more recent times, the mother of her sisterhood has fallen ill, and may soon die, It was Kaza who suggested herself to become the next nightmother, feeling betrayed when her peers said that she was not ready.
Kaza stole a series of ancient texts and learned the art of necromancy, and aims to prove them wrong by spreading terror in the name of the nightsisters, and raising an army of undead to do her bidding. She has fled with a stolen freighter filled with the stolen bodies of long dead nightsisters.