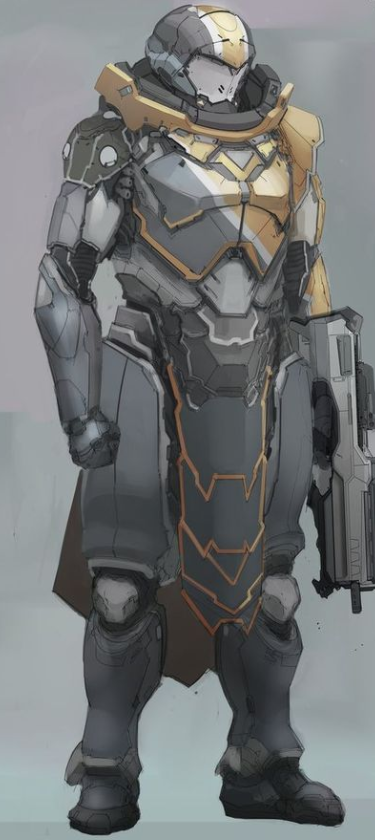 OUT OF CHARACTER INFORMATION
Intent: To create the veteran warriors of the Bral Mandalorian clan.
Image Credit: " Royal Guard " by Kasim Lewis , retrieved from: https://www.pinteres...960933/?lp=true
Role: The Bral Verde are the backbone to the military power of the Bral Mandalorian clan and will serve in a variety of combat roles.
Links:

Valdus Bral
GENERAL INFORMATION
Unit Name: Bral Verde
Affiliation:

Valdus Bral

and the Bral Mandalorian clan.
Classification: Medium Infantry
Equipment:

Each member of this unit is equipped with:

Description: The Verde are clad in beskar and durasteel armor painted in the colors of the Bral clan - black and gold. Additionally, each of these stalwart warriors bear the Mythosaur Skull of the Bral clan.
COMBAT INFORMATION: The combination of Unit Size and Availability below is the indicator of how numerous your unit is. Stormtroopers for instance would be considered Large/Common, while Rogue Squadron would be a Small/Unique unit. Majority Force User Units are prohibited from being Common or Large. The stronger and more specialized your unit is (FU or NFU), the smaller and less common it should be.
Unit Size: Medium
Unit Availability: Rare
Unit Experience:

Veteran

Combat Function: The Verde will serve as the hardened backbone of the clan's military and are often supported by the Ge'verde. The Verde also often provide numerical support to smaller and more elite units.
Strengths:
Proven Warriors

- The Verde are those Ge'verde who have proven themselves time after time in the crucible of battle. The Verde are not unfamiliar with the gruesomeness of war, the toll on the mind and body, and will push on through to the bitter end.

Beskar

- This unit makes use of additional Beskar plates to provide excellent resistances against infantry portable blasters, lasers, and kinetic weapons. They can even survive brief encounters with a lightsaber.

Well Equipped

- The Verde are geared with a variety of assets that allow them to remain useful in many battlefield situations and encounter ranges.
Weaknesses:
Medium infantry

- With the addition of Beskar armored plates the Verde are slower than their Ge'verde counterparts. While the Verde retain more mobility than dedicated heavy or super-heavy infantry, they can be out maneuvered by light infantry.

Anti-Infantry

- The Verde lack dedicated heavy weapons that are required to efficiently destroy heavy or super heavy vehicles, monsters, or targets.
HISTORICAL INFORMATION

Through combat experience and adherence to the Resol'nare and other Bral clan doctrines these warriors have ascended from the ranks of the Ge'verde to their new station as Verde. Comprised entirely of combat veterans the Verde are a force to be reckoned with on the battlefield sporting the favored weapon by the clan - the Mandalorian Assault Rifle as well as portable cover provided by the "Palisade" shield emitter. These veterans do not waver in the face of overwhelming odds and fight on to the last Mandalorian. As the backbone of the military might of the clan, the Verde are seen as the the base expectation that all in the clan should aspire to become. Many of the Verde will eventually be promoted to more elite and specialized units such as the Wardens or Advance Guard.
Edited by Valdus Bral, 06 September 2019 - 05:59 PM.