"DATHU'S STORMBREAKER"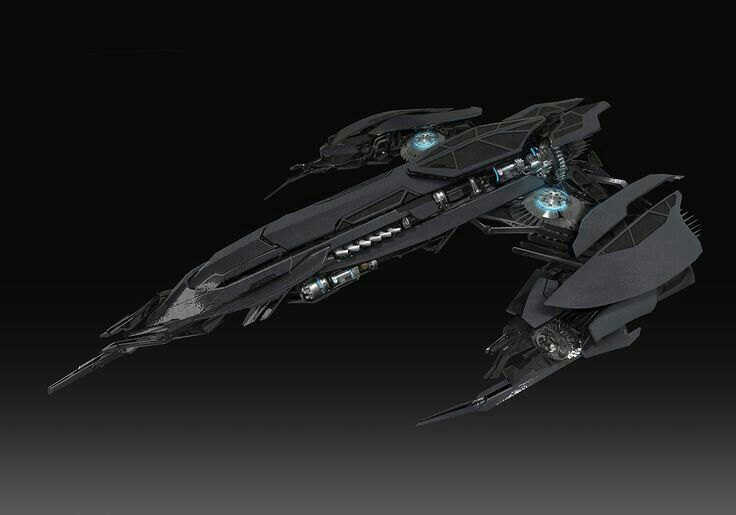 OUT OF CHARACTER INFORMATION
Intent: Personal Vessel for Sakoda Dathu
Image Source: [X]
Canon Link: N/A
Primary Source: N/A
Affiliation: Personal, Clan Dathu
Model:
Muliercula-class Corvette
Production: Unique
TECHNICAL SPECIFICATIONS
Classification: Corvette
Width: 65m
Height: 42m
Hyperdrive Class: 1.0 (Average)
Speed Rating: Very Fast
Maneuverability Rating: High
Armament: Moderate
4
1D Servo Turrets
(2 on port/starboard side wings, located on upper and underside thereof)
2
Tomral RM-76
Heavy Laser Cannon (located at furthermost points of port/starboard side,
gunner reliant
)
Defenses: Moderate
2 Antimissile Octets (1 on upper and underside of aft)
1 Minelayer Ordinance Launch Bay (located below the rear/stern)
Crew Compliment: 2 (1 with use of Astromech Droid)
Gunner Compliment: 3 (2 with use of Astromech Droid)
Passenger Compliment: 15
STANDARD FEATURES
- Automated Navicomputer
- Standard Life support system
- Standard Shield Array
Strengths:
Highly Maneuverable/Agile: Designed to be highly responsive to the pilot, not only can it fly fast but it has the capacity to pivot quickly as well in an effort to avoid incoming hostile fire which makes this vessel decidedly evasive in a dog fight.
Rapid Fire!: In lieu of more hard hitting weaponry, the Dathu's Stormbreaker instead boasts an array of (mostly) forward arc firing lasers to make quick work of approaching (or fleeing) targets.
Home away from Home: The exterior may have a number of tiny teeth (and one buck tooth at the front) to threaten aggressors with, but inside is another matter entirely, built with a more utilitarian/ergonomic flare it boasts just about everything a person might need inside a household while far from home.
Weaknesses:
Restrictive Main Gun Utility: While the other weapons may inflict death by a thousand cuts on larger vessels or those with sophisticated shielding, the Tri-particle Beamer would serve as the heavy hitter when an extra "oompf!" is needed. However in order to utilize it properly it requires the pilot to charge the weapon and maintain a firing solution on the target which not only weakens the impact of other weapons while charging (as power is partially diverted) but restricts maneuverability while trying to "stay on target".
Junk in the Trunk: While highly maneuverable, a facet the pilot must constantly be aware of when navigating obstacle rich areas (ie: asteroid fields) is that the ship span is significantly wider than that of the hull and just because the front half may fit through a crevice does not necessarily mean the rest of it will. This in turn makes it almost a prerequisite that the pilot be intimately familiar with the ship to ensure it doesn't recklessly fly forth and unwittingly sheer either of its wings off.
Average Shielding: With all the bangs and whistles installed to keep the Dathu's Stormbreaker both speedy and evasive as well as capable of retaliating with dizzying amounts of laser fire for a ship its size, there was ultimately little room left for a more sophisticated shield array. The premise of the vessel was to make it quick and give it enough bite to either ward off aggressors or punch a hole big enough to "slip the net" and punch a course for hyperspace. The pilot is likely to suffer greatly from any drawn-out dogfights and the design was built around evasion more than confrontation.
DESCRIPTION
*
I should mention that these floor plans are based on the ships original incarnation from the Mass Effect forum to which I are porting it from, any references to Mass Effect tech you'll just have to use your imagination and treat it as a Star Wars equivalent <3
Like the residents of Eres III, the mantra of "You're either quick, or you're dead" carried over to not just the mandalorians but those of Clan Dathu ensured that it showed in their ships as well. Like a multi-arcing bolt of lightning the "Dathu's Stormbreaker" is capable of zooming in with a powerful onslaught of lasers for a quick strike before darting away just as quickly for only a fool would stay idle during a storm and the ship needs to be sufficiently maneuverable for when the target (or more likely, allies of the target) buzz to retaliate.
Like members of Clan Dathu being unfortunate enough to be caught in a lightning storm, this ship boasts maneuvering thrusters on both wings to help give it that quick blast of angled speed to evade incoming fire much like multiple arcs of lightning. Granted, much like Darius Dathu who boldly (and foolishly) opted to demonstrate the efficiency of his electric-proof body armour in such a storm, the Dathu's Stormbreaker can only endure so many direct hits before its shields give out leaving it decidedly more vulnerable.
Not so much a "gift" from her parents as it was insurance that she would come back to them when she'd finished gallivanting across the galaxy, it comes with a number of quality of life features inside to help the captain shake off the rigors of life in a galaxy that threatens to swallow a person whole if they let it. Similarly, two of the weapons require a gunner each to make optimal use of and while Sakoda's parents would have preferred (and in actuality, had envisioned as much) their two sons to fill these roles they are none the less present and awaiting companions that their youngest daughter will hopefully bond with to help keep not just the ship but their little captain safe too. The gunner controls for these weapons are located at either side of the captain and co-captain's chair.
Edited by Sakoda Dathu, 08 September 2019 - 07:33 AM.