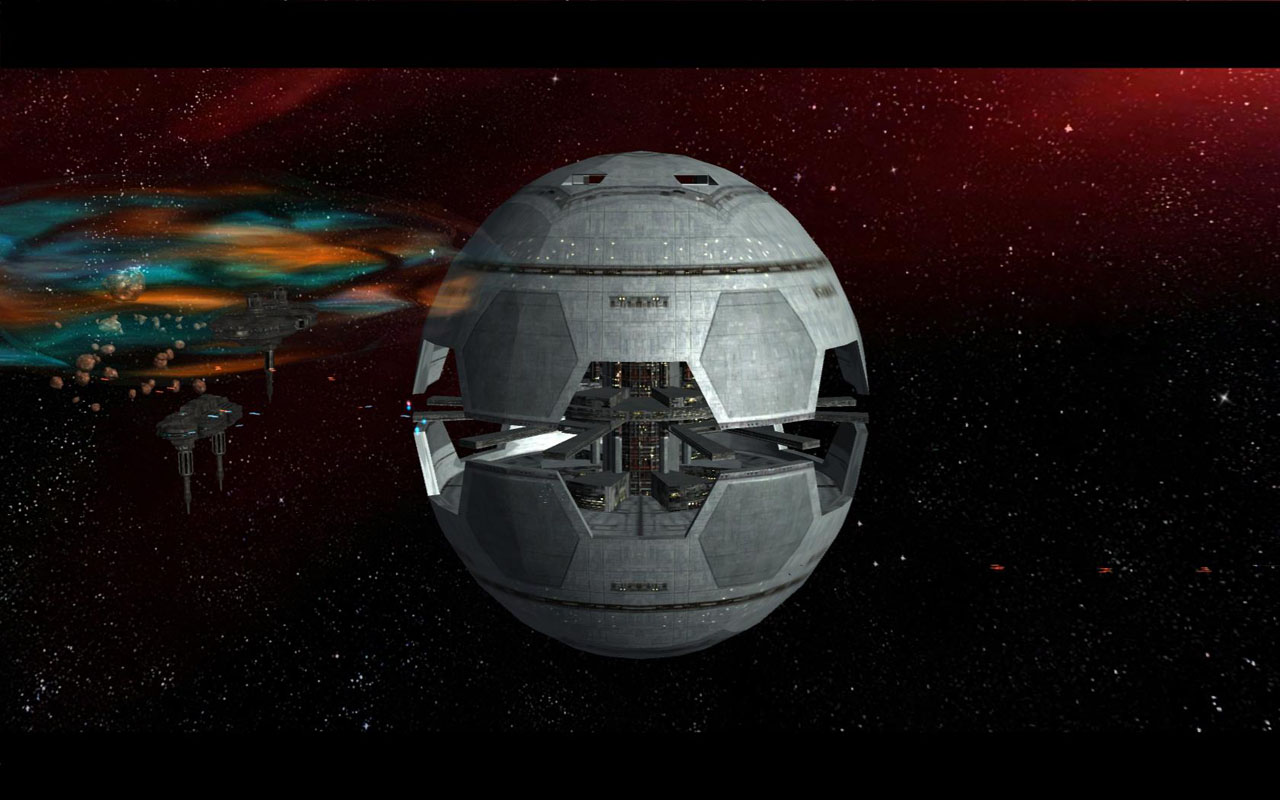 OUT OF CHARACTER INFORMATION
PRODUCTION INFORMATION
TECHNICAL SPECIFICATIONS
Classification: Large Military Station

Length: 3000m

Width: 3000m

Height: 3000m

Armament: Low

Defenses: Average

Hangar Space: 16 Squadrons

Hangar Allocations:

Starfighters: 12 squadrons

Support Craft: 4 squadrons

Maneuverability Rating: Very Low

Speed Rating: Very Low

Hyperdrive Class: N/A
STANDARD FEATURES
Emergency life support systems

Redundant power generators
ADVANCED SYSTEMS
Redundant shielding systems

Reinforced blast doors at all key security checkpoints
Strengths:
The station can house multiple Star Destroyers as well as possess the resources to repair a ship that is 95% damaged. High command hopes to one day be able to use it to build entire Star Destroyers in the very very far future.

Depending on the scope of the repairs, such repairs could be completed in as little as 2-3 days
Weaknesses:
The large size prevents the station from moving quickly and the lack of hyperspace engines means that in order for it to move, it relies entirely on maneuvering thrusters.

The emphasis on the station is repairing ships, meaning that it has minimal defensive capabilities. The station requires constant guard from other ships

While repairing ships, power is diverted to essential areas such as part production. This drains power away from station defenses, leaving it vulnerable

Cannot move while ships are docked.
Description:
The station is designed to be a mobile dock for the Imperial Remnant flotilla as well as a one stop shop for ship repairs. Part of the station functions as a factory to develop ship parts while the rest acts as a floating dock. The total crew is 20,000 personnel, primarily engineers and mechanics. The station can hold up to 4 Imperial Class Star Destroyers and one Resurgent Class battlecrusier at any given time in any of the several alcoves that makeup the exterior.
Edited by Dorriun Vakel, 03 November 2019 - 11:11 AM.