"A female Mandalorian can be both mandakarla and feminine... Just need to find the right shade of red for the occasion. Yesterday it was true red. Today it is blood red." - Briika Tor Munin
NAME: Briika Munin [BREE-kah MOO-neen] née Tor [Tohr]
MEANING OF NAME IN MANDO'A: Briika is taken from briikase, which means happy. Tor means justice.
FACTION: Mandalorian Exiles aligned with the Sith Empire
CLAN: Clan Munin
RANK/POSITION: Mando Doctor (Baar'ur), Mercenary (Ver'verd)
Served with the Mandalorian Medical Corps
SPECIES: Human; Mandalorian
HOMEWORLD: Mandalore; born in Enceri
CURRENT RESIDENCE: Undisclosed
PLAYBY: Ellen Hollman (Saxa)
AGE: 40ish
GENDER: Female
MARITAL STATUS: Married; Husband (Riduur) - Vilaz Munin
HEIGHT: 5'5" with boots on, 5'3" bare footed
WEIGHT: 121 lb.
EYES: Blue-green; azure
HAIR: Blonde; golden
SKIN: Caucasian; fair
FORCE SENSITIVE: No
___________________________________________________________________________________________
STRENGTHS AND WEAKNESSES:
APPEARANCE:
Briika is of average weight for a female of her height with a fit body as she is physically active. She wears her long blond naturally wavy hair either braided into several plaits or left loose. Depending on her mood, Bree's azure eyes may be more blue or green. She has no tattoos nor notable scars. Briika's name fits her as she can usually be found with a cheerful nature, though has grown more serious over the years due to life's challenges.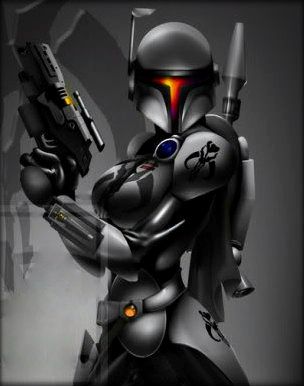 The golden blonde wears silver-colored beskar plates over a black armorweave kute. The beskar'gam also has an attached kama, which keeps her back side protected when tending to wounded on the battlefield. HUD in buy'ce is standard with a red tinted T-visor. (leg plates nor heavy magnetic boots not shown in image). This set of beskar armor was a tenth anniversary present from her riduur.
WEAPONS/ACCESSORIES:
BIOGRAPHY:
Briika Tor was born in Enceri and raised on a farm in the northern foothills of the Three Sisters Mountain Range of Mandalore. Her father, Solus Tor, was a skilled goran, and her mother, Ka'ra, was a trained baar'ur specializing in midwifery. She had an older brother named Valen, who was killed during a skirmish with rogue members of Death Watch, and has a younger brother, Kad, who is a beskarsmith like their buir.

The younger blonde Tor trained under her mother to be a medic as well, though prefers to offer her medical assistance on the battlefield when called upon to do so when the verde go out on missions, and to work with MandalMedical and it's endeavors.
When the young Mando'ad first moved to Keldabe from the small northern village of Enceri, she meet Kable Detta. After an one year courtship they made a riduurok. Soon the Dettas welcomed their first ad, a beautiful baby girl they named Mesh'la. Things seemed to be going very well for the young family until the rapture came. Kable went missing and has not returned to this day; thought to have marched on though his body was never found. (Later, confirmed to have been seen in the Netherworld). A baby boy also was lost too as he was born too early and did not survive; Briika was pregnant at the time of her riduur's disappearance.
In time at the urging of her family, Briika finally moved on for Mesh'la's sake. Front and center was Graad Hokan, a ver'verd/vhett from Concord Dawn. She married him and they had a son, Jair Hokan, a year later.
Life on Mandalore and for the Mandalorian Clans had become challenging over the years. Much strife and change had come to the warrior faction. After a few years of marriage, Graad decided to take their son and leave. To be honest this turn of events was to be expected. Graad had grown restless and did not want to be tied down anymore. He and Briika agreed to a divorce, and made the shuk'la riduurok vow thus ending their marriage. Briika reverted back to her maiden surname of Tor, and she and her daughter remained on Mandalore continuing to run the farm there.
After some time Briika became active again in the crusades. She joined a raid of the Lononar Shipyards and met one of the newly appointed Cuir Rekr by Mand'alor Ra Vizsla. It was evident from the start that the Vilaz Munin and Bree felt a spark between them while on the raid. The Alor of Clan Munin, an all but confirmed bachelor, sought her out while doing clan business on Mandalore a couple of weeks later. A relationship developed leading to marriage after a courtship of several months. She and Vilaz have one daughter together, Kaiyra, and one son, Adenn...
>>> Refer to "Briika's Journey" below for more in-depth information, and the continuing saga.
​A rendering done in charcoal of Briika, Kaiyra, and Viliaz.
PERSONAL CONNECTIONS: Family
FAMILY RESIDENCES:
FAMILY PET(S):
SHIP/TRANSPORTATION:
CLAN BUSINESS(ES):
​
_____________________________________________________________________________________________
BRIIKA'S JOURNEY:
(Thread tracker in chronological order since partial reboot in July '16)
Edited by Briika Munin, 19 August 2019 - 04:32 PM.