So believe it or not you can make high quality posts exactly the same as if you would on a computer, it's a real pain in the neck but you can. There's a bunch of commands that you can input in texts to make your posts nice and pretty or make a signature on a phone. So here is the command list that I've compiled over my time here and there might be more I'm not sure but these are the ones I have that I will be going over individually. Ignore the "///" this is to just make sure they don't activate and mess up the list
Command list
Imbed link
[///url=link]words[/url]
Post image
[///img=url] or [///img]Url[/img]
Center image
[///center]url[/center] or center words
[///center] words [/center]
Color words
[///color=color]words[/color]
Colors can be Red, Blue, Brown, Green, etc etc
Size
[///size=]words[/size] (size 1-20)
[///float=right(left)]url[/float]
///
Font list that I know.
Arial
Comic Sans MS
Courier New
Georgia
Lucida Sans MS
Tahoma
Times New Roman
Trebuchet MS
Verdana
Imbedding links
So let's start with imbedding a link into words. So let's say you want to create a hyper link to your gun you will use this code [///url=link]words[/url] after removing the /// of course.
Oddball reached for his
Submachine gun
and fired at the sith.
And that's how you do that. You can also link pretty much anything you want whether it be images or an obscure stub about a force power used once in a comic from the 1990s from
Images or Gifs
Then we have posting an image. For this we use either of these codes [///img=url] or [///img]Url[/img]
So you can post up that meme or gif you've always wanted to do in that ooc thread. But before you do this remember that the URL needs to end in a png jpg or gif End result will look like this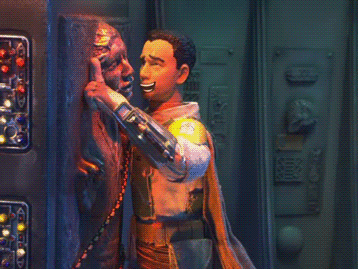 Centering
Then we have centering an image or words. So we use this [///center][///img]url[/img][/center] or for words we do [///center] words here [/center] So to center a post or words it should look like this.
Oddball wanted to go and grab his gat then go straight up gangsta on some sith cuz they had looked at his boo the wrong way. Straight outta coruscant yo.
Coloring Words
So here's one of my favorites.
coloring words
This is pretty easy to do, to do this all you need to do is this [///color=color]words and junk[/color] and you can color your speeches or your whole post. So it should look like this
"Coming straight outta Coruscant, crazy mother karker named Oddball, from a gang called Rebels With Attitude. When I'm called off I got a sawed off, squeeze the trigger and bodies are hauled off"
Oddball rapped cause he was a stone cold G.
Sizing Words
So sizing your words and what not. This has been a real pain for me on my phone, sometimes it wants to work other times it doesn't but I'll show you how anyways. Use this code [///size=]words[/size] (size 1-20) should work like this
Big Words
Fonts
So after that we have fonts and I don't use this often but you might. If you want to use a font use this code and these fonts, they are good for making submissions and posts look fancy.
[///font=insert font here]words[/font]
Font that I know.
Arial
Comic Sans MS
Courier New
Georgia
Lucida Sans MS
Tahoma
Times New Roman
Trebuchet MS
Verdana
Cursive
Results
"Different fonts are cool
Spoilers
Then we have spoilers, that thing where you can hide images or texts that are way too long. For that you are going to use this [///spoiler]words and junk[/spoiler] ends up looking like this
Floating images
Now we are getting into some high end stuff for our last part which is the floating an image feature. The code for that is this [///float=right or left][///img=url][/float] so you get this effect.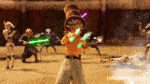 And in the middle of the coliseum he got his rave on, even as people fell left and right it didn't matter. All that mattered was the spice that had been dropped and the glow sticks that were at hand. Some said he died there in battle, others say he lived on to party harder than anyone who had ever partied before.

So that's all I know guys! I hope you found this informational and spread the word for all my fellow phone users!

Okay so for new people or folks who have been here a while and never had access to this information I'm going to put it out there for everyone in a easy to understand way. So let's break this down Barney style together on the topic of "posting from a phone"