NAME: Sanya Cadera Val Lerium



NICKNAME/CODE NAME: penumbra
HOMEWORLD: Corellia

AGE: 24
RACE: Croa
human (mother, dead) human (father, unknown)
HAIR: Silver, shoulder length
EYE COLOUR: orange
HEIGHT: 5'6"
Sexuality: Homosexual
Voice: Link

FRACTION'S: Mandalorians
RANK'S: Grand Master / Queen

HOME: Rendili house

CREDIT'S: What Inquisition Industry's™ make's (currently 50 credits due to the rebuilding efforts for her people)

APPAREL: quadanium breast plate, skin tight black leggings, black,white,red hooded cape and a visor with purple holographic lens

NOTICEABLE FEATURES: Silver hair, Glowing orange eyes.

LIKES: high quite places, space, helping a good cause, flying, shadows, justice, love, a fair fight, Jedi

DISLIKES: crowds, noise, bounty hunters, sith, awkward situations, loss of close friends, small spaces

STRENGTHS:
Stealth- with been born in the slums if corellia she had to adapt to been in plain view but remain unnoticed. this normally meant keeping in the shadows or keeping high up away from attention.(reason for nickname/code-name)

Healer- sanya always put others before her self, so she took up healing.

strategist - when in battle or in training, sanya's abilitys to think of a strategy to achieve the objective is outstanding.
Rich - now she no longer splits her money to fund both her company and the republic she has become quite wealthy with the money saved. It has came to the point where she gains more than she can spend.
love - with her been accepted by the Jedi she has now finally open up and over the past few years of been a Jedi she has fallen in love with a certain individual through accepting this emotion her connection to the force seems stronger...
Heightened Senses - hearing, smell, eyesight and taste are better than the maority of other species allowing for better hunting instincts, but it is also able to be used against them as sensitive ears can pick up ultrasonic frequencies.
Acrobatic - with more hollow bone structure they can run faster, jump higher and climb better.
Immune system - Sanya has a strong immune system that is able to fight off viruses and illnesses very easily.

[Building through rp]

WEAKNESS:
Manipulation - easily talked into doing things and not realising the consequence of the of the objective.

small crowded areas - her awareness is usually good but when confined to places where there is too much to focus on it leaves her vulnerable to attack.

love - this can also be turned against her. as well as do anything to make sure the person she has feeling for is safe no matter the cost.
sensitive hearing: with her ears been so sensitive to sound she can pick up frequencies many others cannot. But loud noises in close proximity, Flashbangs for example would have a high possibility of rupturing her ear drums.
* sensitive to extreme cold: she easily get cold and can suffer hypothermia worse than the average species.

[Building through Rp]

Current Master -
none
Previous masters -
Avalore Eden
Maria Natalja

Padawan/apprentice -
Non
Kills - None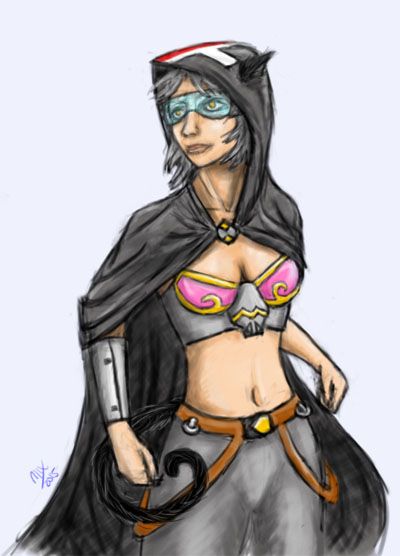 Edited by Sanya Val Lerium, 07 March 2019 - 08:18 PM.